Oscar Martin Solem
Oscar Martin Solem
Originally Submitted by Allison White on December 1st, 2011, Drake University

On December 3rd of 1981, Oscar Martin Solem was born and so was a legacy. [6] Oscar, also known as "Ossie", was a famous and nationally known football and basketball coach. Solem's football legacy began at the University of Minnesota where he played defensive end for head coach Henry L. Williams. While at the U of M, Solem became nationally recognized for his outstanding athletic abilities which helped to lift his coaching career off the ground upon his graduation from the University. Solem's coaching career took off right after graduation. He took on a job coaching for a pre-NFL franchise, the Minneapolis Marines for 3 years until he took on head coaching jobs at two high schools; Des Moines East High School and Minneapolis South High School. [6] Solem's college coaching career finally began in 1920 at Luther College in Decorah, Iowa, a small, private school. During Coach Solem's one year at Luther, he led the football team to a 5-1-1 record. [6]
In 1921, exactly one year later, Ossie was named head football coach and athletic director at Drake University. In February of 1926, a telegram was received by Robert L. Finch from Mr. Edward C. Lytton, the business manager of Drake University. "Ossie signed ten-year contract last night. First period five years from June 15th, 1926. Drake has option to renew five years same terms. Contract is airtight. Ossie here until 1936." [3] The word had gotten out that Ossie had finally signed a ten year contract at Drake University to serve as the head football coach and athletic director. The university, people, and coaches around the United States were thrilled. Finch writes, "What a leadership we shall have for the years stretching ahead!" [3] At one point, Finch even compares the hiring of Ossie Solem to the hiring of the sixth president of the university; Daniel Walter Morehouse. Solem stayed at Drake for his time, despite being offered jobs from Washington State College, Occidental College, and even the University of Indiana. [3] As if that praise wasn't enough for Mr. Solem, on his 10 year mark of being at Drake a big banquet was held in his honor. In 1931, the banquet was held on the eve of the 22nd Drake Relays. Over 200 famous coaches were expected to attend and the speakers expected to have great speeches; Major John L. Griffith, Big Ten Commissioner of Athletics, Robert Zuppke, University of Illinois head football coach, and Harry M. Gage, president of Coe College and commissioner of the NCACS, were among them. [4] He served as the football coach and athletic director for 11 years, and even took on the additional job as director of the Drake Relays for four of those years. [2] In Ossie's ten years at Drake University, he led the school to a huge prestige on the football field and in track and field. [1] In Ossie's football career at Drake, he compiled a record of 40 wins, 29 losses, 2 ties, and a winning percentage of .613 even with teams that included large universities such as Minnesota, Missouri, Kansas, Nebraska, Pittsburgh, and Notre Dame. Ossie did this despite the school's less than 2,000 enrolled students and endowments with as low as $2,000,000. [1] At Drake, Solem not only touched the lives of his players, but anybody who came into contact with him. His so-called radiant personality was hard to resist, and unforgettable at that.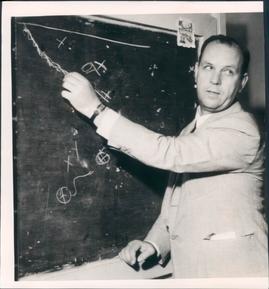 After leaving Drake in 1932, he took on the head coaching job at the University of Iowa, who was just getting off a suspension from the Big Ten Conference and suffering from the effects of the Great Depression. [7] It was not expected for the Hawkeyes to do well that season. Ossie led them to a win in the season-opener, but did not win a single game the rest of the season. Iowa City was highly unsupportive in its team; it was accused that the players were being discriminated upon due to the recent suspension from the conference. [8] But, Ossie turned the team around the following season and led them to a 5-3 final record and a happier Iowa City. Ossie continued to be successful at the U of I despite the troubles that had occurred. After the 1935 season, in the beginning of 1936, Ossie recruited what was to be called the foundation for the rest of the basis of Hawkeye Football. Among the recruits brought in were soon-to-be eisman Trophy Winner, Nile Kinnick and famous player, Erwin Prasse. [8] That year, in 1936, Solem announced his resignation at Iowa to coach at Syracuse University. Solem coached at Syracuse from 1937-1945 until his retirement in 1946. In Ossie's coaching career of 37 seasons at five different schools, he compiled a final record of 162-117-20. [9] Oscar Martin Solem sadly died at the age of 78 at a hospital in Minneapolis, Minnesota on October 26th, 1970. [5] His former player Ozzie Simmons quoted, "He probably could have been the toughest on the players, but he was the finest gentleman I've ever been around". [9]
Literature Cited
1. Sport Slants. (1937 April 27). Associated Press Feature Service, p. 1.
2. Will Be Honored Tonight. (1931 April 23). Des Moines Register, N.P.
3. Oscar M. Solem Signs for Ten More Years. (1926 February 20). The Drake Alumnus, p. 11.
4. Solem Dinner Thursday Night. (1931 April 23). The Tribune, p. 92.
5. Ossie Solem, Ex-Football Coach at Iowa and Syracuse, 78, Dies. (1970 October 26). The New York Times retrieved from http://query.nytimes.com/gst/abstract.html?res=FB0D17F7355A157493CAAB178BD95F448785F9
6. The Minneapolis Marines: Minnesota's Forgotten NFL Team. (1998). The Coffin Corner, p. 1-3.
7. University of Iowa Football. (1982 June). Strode Pub, p. 127.
8. 75 Years with The Fighting Hawkeyes. (1964). W. C. Brown, p. 154, 156.
9. The Ironmen. (1939). Xilibris, p. 28.