Spike's Army
Spike's Army
Originally submitted by Katie Risvold, Drake University, Dec. 10, 2010.

Spike's Army is an organization that gets together for many sport events (the most popular sports being basketball and football). When a Drake student joins Spike's Army, that student is given a special 'dog tag' with a code on the back.
Events
Each Drake event is worth 100 points. When a student goes to an event, their dog tag will be scanned and they will get the points. After so many points have been obtained, students can trade in their points for prizes, such as T-shirts, free food, and other free stuff.[2]
Spike's Army also has a Facebook page]. They update information on Drake events and remind students if it's a "White-out", "Black-out", or a "Blue-Out" event. For example, Spike's Army sent out an "alert" to notify that the 2009 Jan. 17 men's basketball game was a "Blue-Out".
Prize Chart for fall, 2010.[2]
100 Points
300 Points
600 Points
1000 Points
1500 Points
2500 Points
3500 Points
5000 Points
* Spike's Army T-shirt
* Planet Sub: refillable cup
* Planet Sub: six inch sub
* Papa John's: two free breadsticks
* Planet Sub: Football sub or six inch combo
* Coke: 12 pack
* Adidas: long-sleeve dri-fit shirt
* Iowa Cubs: six tickets to a 2011 game.
* Jethro's: 5 free wings with any purchase
* Chipotle: Chips and Guacamole
* Kum & Go: 32 oz. fountain drink
* Starbucks: $1 off or free 12 oz. coffee
* Jethro's: ten free wings with any purchase
* Des Moines Playhouse: Two-for-One admission
* Sodexo: $50 in Bulldog Bucks
* Planet Sub: free Party Sub
* McDonad's: coffee
* Cookies by Design: free Cookie on a Stick
* McDonald's: free extra Value Meal
* Dave's Barbershop: free haircut
* Papa John's: six free pizzas
* Kum & Go: $25 Gift Card
* Chipotle: Buy One, Get One free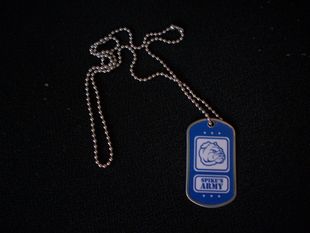 Anyone who has signed up for Spike's Army can see their points on a "Scoreboard". Students can match the code on the back of their Dog Tag with one of the numbers on the "Scoreboard" to see how many points they have.[2]
Signing Up for Spike's Army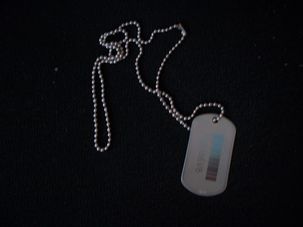 It costs $10 to sign up for Spike's Army, and you get a free T-shirt and your own special coded Dog Tag when you sign up. You can sign up at any of the Drake games at the Spike's Army Rewards table, or you can stop by the Bell Center at the Drake Athletic Office. [2]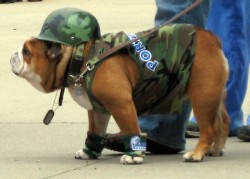 Porterhouse and Spike's Army
The bulldog who won Drake's "Beautiful Bulldog Contest" in 2009 was a dog by the name of Porterhouse. Porterhouse had tried out for the contest, and in his 4th time participating, he won. His theme for the judges was based on "Spike's Army", wearing a camouflage outfit and a Dog Tag.[1]

Spike's Army really wants to pump up the games and get Drake's students rallied up for some fun sports. Spike's Army encourages Drake students to become a bigger part of the Drake community.
References