Delta Gamma
Delta Gamma Fraternity
Submitted by Jordan Emrick, December 2, 2010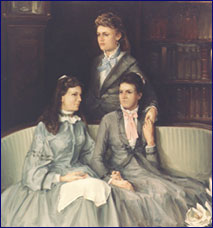 Origin of Organization
Delta Gamma Fraternity was founded on Christmas in 1873, in Oxford, Mississippi. Eva Webb Dobb, her cousin Anna Boyd Ellington, and their friend Mary Comfort Lennon, were stuck at Lewis School in Oxford, Mississippi over Christmas break to due to bad weather. One of their male cousins was in a fraternity at a near by university, and they decided to start a fraternity for women. This was their the word sorority came into use. That day, they wrote out the first constitution and bylaws of Delta Gamma. The three women planned to initiate more members after the holidays. They didn't receive any help, and picked the letters of out of a Greek grammar book. At the early meetings they would assign research papers and study, because at school they were only educated in the arts didn't have oppertunities to study math or science.[1] Delta Gamma's Alpha Lambda Chapter was established in 1921, along with chapters of Kappa Kappa Gamma and Kappa Alpha Theta.[2]
Facts and Symbols
The symbol of Delta Gamma is the Anchor. Although the anchor is the symbol of the badge now, it hasn't always been. The original badge was shaped like the letter "H", to stand for hope. Corrine Miller designed the anchor that is currently used in 1873. The anchor is also a symbol for hope. Delta Gamma's motto, is "Do good." At Drake the Delta Gamma's stay true to this motto by volunteering and participating in numerous community service projects. The colors are bronze, pink, and blue, and the flower is the cream colored rose. The Delta Gamma fraternity has an official magazine, the Anchora. The official philanthropy for Delta Gamma is Service for Sight.
This is Delta Gamma's Mission Statement: "Delta Gamma offers to women of all ages a rich heritage based on principles of personal integrity, personal responsibility and intellectual honesty. Its primary purpose is to foster high ideals of friendship, promote educational and cultural interests, create a true sense of social responsibility, and develop the finest qualities of character."[3]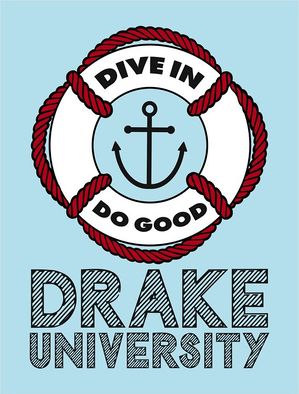 Philanthropy
Delta Gamma adopted Service for Sight as their official philanthropy. At the 1936 Convention in Lake Placid, New York, a resolution was made to create an official philanthropic project. Ruth Billow, a blind Delta Gamma, helped make the decision to work with the blind.[1] Today, Delta Gammas around the word, including at Drake, raise money and volunteer to raise funds and help people with visual problems. The Alpha Lambda chapter at Drake specifically keeps up this tradition by helping with preschool vision screenings, volunteering at Wesley Acres (a local nursing home) and raising funds through various activities. A favorite philanthropy event for Drake students, and students around the country is Anchor Splash. Anchor Splash occurs annually, and it is a weeklong competition, ending with the Anchor Splash event on Saturday morning. Anchor Splash has been a tradition for many years. At Drake, it is a competition for both Greek students and non-Greek students. Throughout the week, Delta Gammas sell tee shirts, and hold a most beautiful eyes contest, and a Hug a DG contest. Raffle tickets are also sold. It all leads up to the Anchor SplashSwimming Meet. Sororities and fraternities compete in relay races, and the grand finale is a synchronized swimming contest. The 2010 Anchor Splash raised over $6000 dollars.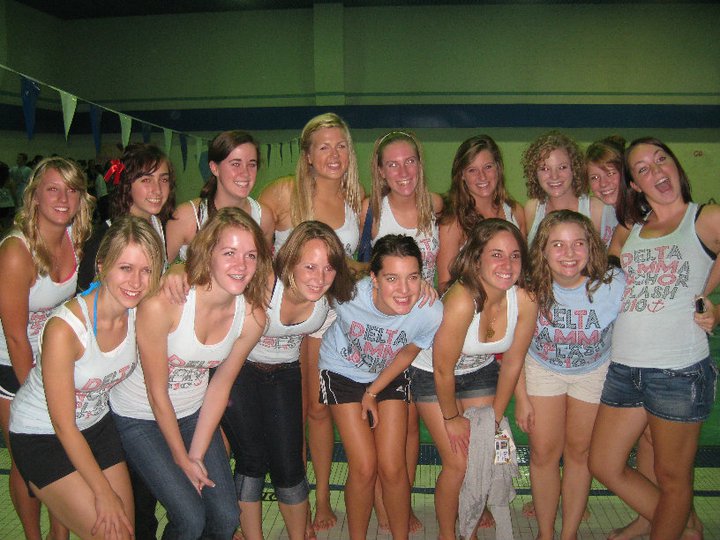 New Member Selection Process
There are five points that are required for Delta Gammas to represent. The points of a star can represent the five points. The five points are character, interests and talents, activities and honors, personal development, and education and scholarship. If the Delta Gamma members see these qualities in you, then you can be considered for membership. You also must be sponsored by a specific Delta Gamma who believes that you are good candidate. New members attend chapter meetings, and events, but don't get initiated until they complete new member education. At Drake, the selection process is mostly made during formal fall rush. The recruitment process takes place over 3 days, and potential new members visit each of Drakes 5 houses. It is a process based on mutual selection.
"The girls in Delta Gamma really care about each other and look out for each other. They are very welcoming to new members and treat you like family" quote from Anne Eitrheim, New Member Class 2010.
Delta Gamma and Drake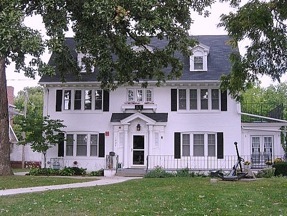 The Delta Gammas at Drake are very active around campus as well as in the community. Delta Gammas participate in mixers and events with other fraternities and sororities on campus, and also support them with their philanthropic efforts. The Delta Gammas hold a variety of leadership positions in campus activities. There are many events in the community that Delta Gamma participates in, including events sponsored by the American Cancer Society, and the Juvenile Diabetes Research Foundation. The Delta Gammas also consistently have the highest grade point average on Greek Street. Delta Gammas at Drake are expected to live up to the expectations of the Fraternity Nationwide. Some of the obligations of being a member include being respectful to herself, her country, her university, and her fraternity. There are many opportunities for leadership within the organization. The president of Delta Gamma at Drake University, for the 2010-11 school year is Lauren Lusch.
"Delta Gamma has been such an amazing opportunity for me. It has taught me to more open minded and accepting of everyone, and most of my best memories of Drake so far have been made with my sisters." quote from Delta Gamma member Sam Kennelly, sophomore at Drake University.
Being a Delta Gamma sister does not end at graduation. There are many opportunities for Delta Gamma Alumnae to stay involved. There are many alumni associations that aim to continue the friendships formed by Delta Gamma, and even uphold the motto of "Do good." Alumni associations also provide Delta Gammas who have moved to a new area a group of friends and a support system. Alumnae mentor collegians, and have fundraisers. At Drake, the active Delta Gammas host alumni dinners and events at the house, and invite alumni from the Alpha Lambda Chapter to attend.
"The Delta Gammas are great girls, they are my favorite sorority. I really hope i marry a DG someday, they are that awesome." quote from Jake Kargol, junior Delta Chi at Northern Illinois University.
References
[1]The Shield of Delta Gamma. (2009) Delta Gamma Foundation