Hazel B. Weakly
Hazel B. Weakly
Originally submitted by Jordan Emrick, Drake University, November 3, 2010
Early Life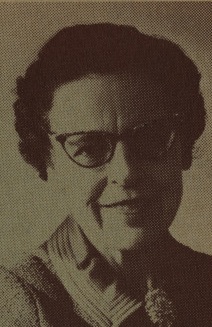 Hazel Weakly was born on February 4, 1912, in , Illinois. She has two brothers, William and Glen Barnett, and a sister, Vera (Barnett) Wilson. Weakly graduated from The Illinois State Teacher's college with a Bachelor's Degree. She received her Master's Degree and PhD from Northwestern University. Her college activities included orchestra, drama club, and writers club. After graduating college, she taught at Westervelt public schools from 1928 to 1934, and then taught at Evanston public schools until 1939. In 1939, she returned to Northwestern University as the Supervisor of Student Teaching. Dr. Weakly joined Drake Faculty in 1940.
Time at Drake
During her time at Drake, Dr. Weakly was very influential within the school and the community. She was a professor, and also the chairperson of the Department of Education. She was well liked and respected by her students. Her students valued and remember her lessons. One bit of advice that she often stressed was to "keep all options open as the helped a child solve problems" (1). Dr. Weakly was a member of Delta Kappa Gamma, and Kappa Delta Pi which are both educational honor society. In 1967, she was selected as a member for Mortar Board, which is a National Honor Leadership Society. Not only was Dr. Weakly very active in the Drake Community, she was also very involved in the Des Moines Community, and even outside Des Moines. She published numerous articles on the subjects of teaching and child psychology in periodicals such as "Education Trends", "Education Method", "Midland School," and others. Dr. Weakly was a widely known speaker. She led a series of parent education programs put on by the Des Moines Parent-Teacher Association, and also spoke at High School Graduation Commencement ceremonies, such as at Grinnell High School. Dr. Weakly also spoke about teaching reading to elementary students at conferences in Iowa. She was a member of the United Methodist Church.
Accomplishments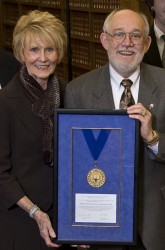 Dr. Weakly's hard work in her field did not go unrecognized. In 1972, Drake University awarded Dr. Weakly the highest award that the university gives. Dr. Weakly received the President's Award for Outstanding Undergraduate Teaching. The award is given in recognition of the "teacher's informed, inspirational dialogue with students, integrity of personal relationships, rigor in intellectual endeavors, and enthusiasm for subject matter" She was also featured in "Who's Who of America", "Who's Who in the Midwest," and Who's Who of American Women." Perhaps one of the most influential things that Dr. Weakly did in her life was convince a certain student to attend Drake. Dr. Weakly's husband, William Bowen, who she married in 1947, was a superintendent of Des Moines Schools. Dr. Weakly and her husband encouraged a young man named Bill Buchanan and his girlfriend to attend Drake. Dr. Weakly was very important because she arranged the scholarships for them Buchanan graduated from Drake and married his girlfriend, and the two were immensely successful, and they donated 3 million dollars to Drake, which was used to finance the Buchanan Center for Entrepreneurial Leadership. The couple has said many times that they would never have gone to Drake if it hadn't been for the scholarships they received. Today there is still a Hazel B. Weakly Scholarship, which provides funds for the education department.
Life after Drake
In 1961, after 21 years of serving Drake University, Dr. Weakly accepted a position at New Mexico State University. She was a professor there and the head of the department of education. She also was the head of the Educational Research Center. She died of a heart attack on July 6th 1976. Dr. Hazel has affected the lives of countless people to her contributions to education not only at Drake and in Des Moines, but nationwide.