Lewis Worthington Smith
Lewis Worthington Smith (November 22, 1866-December 27, 1947)
Originally Submitted By Bobby Griffith on 12/2/11 Drake University
Background on Smith
Lewis Worthington Smith was born in Malta, Illinois on November 22, 1866. The son of Dwight A. and Sarah Elizabeth (Lewis) Smith, nearly all of his higher education was completed in Nebraska.[1] Smith completed his undergraduate degree at Beloit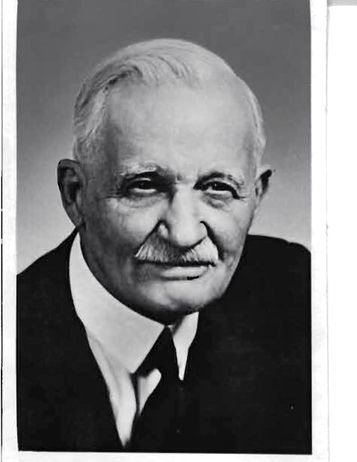 in Wisconsin, and went on to study English and literature at Fairfield College, Nebraska, University of Nebraska, and Cotner University, Nebraska. He finished his schooling in 1901 and took the position of Professor of English at Tabor College, Iowa immediately after. Dr. Smith came to Drake only a year later in 1902, and accepted the position of Head of Drake's English Department and Professor of English.[2] Once at Drake Smith's impact was immediate. A prolific poet, Smith published numerous poems and plays in his tenure. He was a versatile master of technique, while at the same time vivid and vital. He was described as being able to not sacrifice thought to form or rhythm and rhyme to the follies of free verse.[1] In
History of Drake University,
Smith is classified as, "One of the writers of verse in the past third of a century who has dared to ignore the fatuous of the modern faddists. His verse has a lyrical quality superior to Sidney Lanier and is far richer in thought and perfection of form. He is as musical as Poe, with far more substance and spiritual vision." p. 77 Smith had his works published in such esteemed publications as the Boston Globe, Chicago Tribune, and the New York Times.[2] Of the many plays that Smith authored, his most acclaimed is "The Art of Life." and was the leading comedy in Donald Robertson's repertoire of plays. Robertson's producing home was the Art Institute of Chicago, and from this center the company presented plays throughout the Midwest.[4]
Lewis Smith married Jessie Belle Wellborn on August 24th, 1897 who then gave birth to their couple's daughter and only child Marjorie Smith. Marjorie followed in her father's footsteps and received her bachelor's degree from Drake in 1924 and her master's in 1926. She was hired as the assistant secretary of the National Board of Education of the Presbyterian Churches. Smith's wife, Jessie was in her own an excellent poet. She also published many original works during her life both on her own and with her husband.[3]
In Smith's 38 years at Drake University he was a member of the Poetry Society of America, he founded the English Club at Drake, and bolstered and improved the English department by adding classes and expertise. He also established the Drake chapter of the national writing fraternity, Sigma Tau Delta. Smith became the Dean of the Graduate Division in 1938 and retired from Drake two years later in 1940. Lewis Worthington Smith died on December 27th, 1947 at the age of 81 after struggling though a long period of failing health. He was survived by both his wife and his daughter.[4]
Home-coming
By Professor Lewis Worthington Smith
When the clinging apples redden In the sunset of the year, Set your eyes along the highway To the haven of good cheer.
When the stalks the summer nourished With their golden burdens bend, Take the old familiar pathway To the fireside of friend.
With October skies above you And a soft peace dropping down. Come again to those that love you, The old campus, the old town.
Warm the eyes that here shine welcome, And the hands that grip your hands, Home is home, whatever fortune You have won in other lands.[5]
References
[1] Blanchard, Charles. (1931). History of Drake, Building for the Centuries, pp. 77
[2] Lewis Worthington Smith. (1931, January). The Drake Alumnus, pp.7
[3] Death Comes to Professor L. Worthington Smith, Poet, Writer, Long-time Drake Faculty Member. (1948, January). The Drake Alumnus
[4] L. W. Smith, Poet, Writer, Is Dead at 81. (1947, December 28). Des Moines Sunday Register, pp.1
[5] Smith, L, W. (1930, October). Home-coming. The Drake Alumnus, pp.7