Ross Residential Hall
Ross Hall
Originally submitted by Nicole Barnett, Drake University, December 16, 2011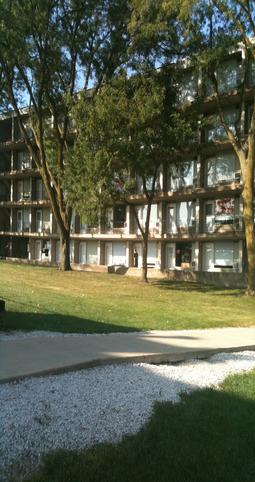 Description of Ross Hall
Ross Hall is a red-bricked building off main campus that also has balconies, which lead directly outside. It is a five-story building with 47 one and two bedroom apartments.[3] It is located at 1214 on 31st street, [5] and is so westward on campus it is almost at 32nd street.[3] Although Ross is technically off campus you still have to go through Drake University to receive housing in this residence hall.[5]
The beginning of Ross Hall
Ross residence hall was built in 1962, and is named after Dr. Luther Sherman Ross.[3] He was the head of the biology, chemistry, and zoology departments[2] and his wife also worked at Drake University. They were looked at as the "parents" of Drake.I personally believe that is why Ross Hall was to be the married couples dormitory. He was blunt and honest with everyone and "those who know him best love him most." It has been said, that he was a true friend to most students.[1] Dr. Luther Ross retired in 1935, after he served 40 years as a professor, and was a chairman of the athletic council. He died on Monday April 4th, 1943, at age 78. [2]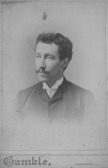 Special aspect
Ross Hall residence rooms were seen as apartments especially when it was first built in 1962.[3] The apartment included a kitchen, a living room, one bathroom and two bedrooms. They also offer a one-bedroom apartment, which included: a bathroom, a living room and a small kitchen. Both one and two bedroom apartments include three closets. What also makes Ross Hall feel like an apartment complex is the balcony/catwalk aspect to it. When walking out of your dorm, or complex you are outside, instead of normally having to walk through a lobby inside your residence halls. Ross also offers garbage chutes and coin operated laundry machines. [4]
Modern Day vs. 1970s
In 1962 the only requirement to live in Ross Hall was to have at least one full time student of Drake University. According to the "Times Delphic", Ross Hall was to be looked at as a less expensive but satisfactory apartment for Drake students, compared to the off campus Des Moines city's offerings. Many married couples that resided in Ross Hall occupied a two-bedroom apartment for themselves and their children. A two-bedroom apartment was $85 a month, and single units were $75 a month. Both costs included all utilities except electricity. The limitations of the size of the families were also a concern. The couples were allowed to have two children, if there were to be a third, they would have to find a new place to live. [4] Now the only requirements to live in Ross Hall is to be a sophomore or older. The students that live there now have one or two bedrooms, one living room, and one closet with shelves in the hallway (as well as a closet in their bedrooms). The living room and the living room area is furnished, it includes a chair, a few end tables, a coffee table, counter space and cabinets (which used to be for the kitchen).[5]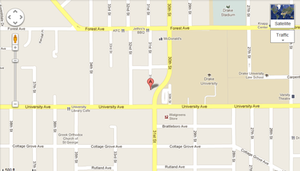 References
[1] Blanchard, C. (N.D.). Luther Sherman Ross History of Drake University vol 1.
[2] Former Professor Dies in West (8 April 1943). Drake Times-Delphic vol. 61 no. 26, pp. 4
[3] Iowans on Campus: Drake Holds Open House Today in Three New Residence Halls (21 October 1962) Des Moines Sunday Register, pp.16.
[4] Students Consider New to be 'Very Satisfactory' (19 October 1962) Drake Times-Delphic vol. 82 no.11, pp. 6.
[5] Ross Hall (22 August 2011) Drake University www.Drake.edu/residnce life/halls/ross.php