Triathlon Club
Triathlon Club (2007-present)
Originally submitted by Brad Johnson, Drake University, December 3, 2010

"Swim 2.4 miles! Bike 112 miles! Run 26.2 miles! Brag for the rest of your life! Whoever finishes first, we'll call him the Ironman."-Commander Collins, USN (1978)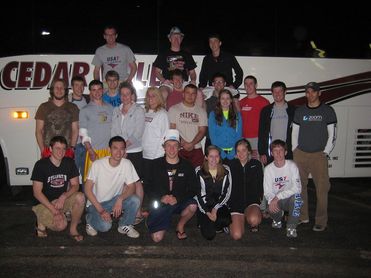 HISTORY OF TRIATHLON CLUB DRAKE
Drake's Triathlon Club was founded in 2007. Drake triathletes have competed in Collegiate Nationals, which are held all over the country. Last year Collegiate Nationals were held in Lubbock, Texas. The club also competes in other smaller triathlons around the midwest throughout the year. (Club president Jared is behind the girl in the blue with the guy on his shoulders. Brice, the clubs treasurer, is bottom right with the white shirt on. The clubs coach, Matt, is far right with the gray shirt, hat, and brown pants.)
CURRENTLY
Triathlon Club is just starting its 3rd year at Drake University. It was established in 2007. Jared Dammann ('12) is the president of Triathlon Club, Karen Lichty ('12) is the current vice president, and Brice Antons is the treasurer ('13). The Triathlon Club also has their own coach, Matt Zepeda]. Matt is an employee of Zoom Performance. The club practices once a week at Drake on Tuesday nights. Some members also practice with the Des Moines Triathlon Club on Thursday nights as well.
HISTORY OF TRIATHLONS
The triathlon event begin in France in the early 1920's. It was first called a few different things: "Les trois sports", "La Course des Débrouillards", and "La course des Touche à Tout". However, there was a tri-sport event in 1902 but it's not considered a triathlon because it featured running, cycling, and canoeing. 1920 was the first official triathlon in which the French newspaper "L´Auto" reported on a race "Les Trois Sports" with a 3 km (1.8 mi) run, 12 km (7.2 mi) bike, and a swim across the channel Marne. The International Triathlon Union (ITU) was founded in 1989 as the governing body of the sport with the goal of, at that time, putting a triathlon on the Olympic program. The triathlon made its Olympic debut at the Sydney Games in 2000.
DISTANCES OF TRIATHLONS
There isn't a set distance for all triathlons, there are actually many different distances.
S - The sprint distance of a triathlon is a swim of 750 m (.47 mi), a bike of 20 km (12.4 mi), and a run of 5 km (3.1mi). The sprint distance of triathlon is the fastest growing triathlon race distance in the United States
Olympic Distance - The olympic distance of a triathlon is a swim of 1,500 m (.93 mi), a bike of 40 km (24.9 mi), and a run of 10 km (6.2 mi). The olympic distance of triathlon is use for the Collegiate National race. It's also called "international distance", "standard course", or "short course".
ITU-Long Distance (O2) - ITU stands for "International Triathlon Union" and this race is double the distance of an olympic distance. Therefor its a swim of 3.0 km (1.89 mi), a bike of 80 km (49.6 mi), and a ran of 20 km (12.4 mi).
I - This race is another Olympic Distance Triathlon added onto the ITU-Long Distance (O3). So in other words its 3X the Olympic Distance triathlon. Meaning the the swim is 4.0 km (2.49 mi), a bike of 120 km (74.6 mi), and a run of 30 km (18.6 mi). This was the distance of the ITU Long Distance Triathlon World Champion in 2008, which was also the original distance of the Nice Triathlon.
Half - "Half" stands for "half-ironman". The distances for the three events are as follows; swim 1.93 km(1.2 mi), bike 90 km (56 mi), and a ran 21.09 km (13.1 mi (half marathon). It's also known as "middle distance", "70.3" (total miles traveled), or "half-ironman".
F - "Full" therefor would stand for "full-ironman". The distances are a swim of 3.86 km (2.4 mi), a bike of 180km (112 mi), and a run of 42.2 km (26.2 mi (which is a full marathon)). A full-ironman is also sometimes called a "long distance" or "Ironman Triathlon".
ABOUT TRIATHLONS
A triathlon is a multi-event endurance event consisting of swimming, cycling, and running (respectfully) in immediate succession over various distances. Athletes compete for fastest overall course completion time, including timed "transitions" between the three different events. Transition areas are between the swimming and biking stages (T1), and between the biking and running stages (T2) and is where the transition from swimming to cycling and cycling to running happens. Athletes use these areas to store their bikes, clothes, and any other accessories needed for preparing and for the next stage of the race. The triathletes time spent in T1 and T2 are included in the overall time, so they try to hurry through the transition areas.
REFERENCES