2010 Drakeapedia Class Building Example
Cowles Library Example (built 1937, addition 1967) [heading 1]
Originally submitted by: Susan Breakenridge, Drake University, Nov 3, 2010 [heading 4]
[Insert photo of building WITH caption - left align so text will start at the right of the photo]

Origin of the Building: [heading 3]
xxxxxxx
You can still use your own headings but note the type I've used in this example as well as Dr. Pearson's

xxxxxxxx
Photos of the building can be inside and outside; present and past. Note we realize that the razed buildings are harder to achieve this.
Significant History:
xxxxxxxx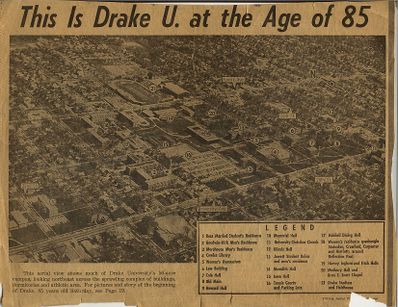 Note the byline at the top for you to acknowledge your work

xxx

don't forget to include footnotes and to superscribe the number [x] do so by putting in square brackets, select text, click 'style type' on editing bar, select 'vertical select' where you will fine superscribe...remember to hit 'apply'.
xxxxx
Name Sake:
xxxxxx

Remember when putting in links to make them open in a separate tab/window
xxxxxx
References: