Aaron Wies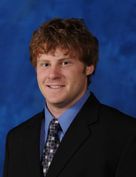 Aaron Wies was born in Omaha, Nebraska on the 23rd of October 1987. Soon after his birth Aaron moved to Grand Island, Nebraska with his family. Aaron remained in Grand Island through eighth grade. During the summer, before ninth grade, Aaron and his family moved to Waukee, Iowa. Aaron attended high school in his hometown at Waukee High School. While in school, Aaron competed in football and track. He earned first-team all-state honors in football and also excelled in track, going to the state track meet two years in a row. Aaron's athletic ability brought him to Drake University to play football and to study education.
Aaron knew that he wanted to become a teacher and also a coach from the time he began playing sports as a child. Aaron never looked back and earned a degree in secondary education in the spring of 2010. Soon after graduating Aaron began subbing for the Waukee School District. Aaron now has a part-time job as a high school history teacher and as a middle school head football coach.
In the future Aaron plans to continue teaching and coaching. He would eventually like to acquire a position as a head high school football coach or as a school's athletic director. Aaron would like to remain in the Midwest, and someday start his own family.