Anime Club
Anime Club
Originally submitted by Katie Risvold, Drake University, Dec 6, 2010.
"Anime is a Japanese form of entertainment that utilizes animated figures that appear in film, on television and in a series of comic books" [2]. The comic form (or otherwise called 'graphic novels'), are called 'manga's,' and are usually read from right to left [3]. There are millions of animes and mangas out there, and even though there are people who have never heard those terms before, it's safe to say that everyone has at least seen an anime or have heard about it. Tessa Hopson, secretary of the Drake Anime Club 2010, when asked about how she would describe what anime is, she replied, "It's really difficult to explain. However, if you suggest these four popular pieces: Pokemon, Sailor moon, Dragon Ball Z, and Yu-gi-oh to people, chances are they will understand what you're talking about.
"Plus, there will always be an anime or manga for anyone. There are many genres out there for everyone. It's also fun," she concluded.
Drake Anime Club is a group that gets together every Thursday to watch different animes, AMVs (animated music videos) and also to talk about manga. They usually meet at Cline, room 206 or Olin Hall, room 101, depending on the situation. They meet from around 6-9PM, however it might go longer due to finishing an episode or such.
Anime Club is open for everyone on campus. Hopson says that there are students from every major that attend the club. "It's a great way to meet a variety of people," she states.
How Anime came to Drake
In 1995, Brent Buckalew founded the Drake Anime Club. "It is my goal to promote Japanese animation in Drake and the greater Des Moines area," Buckalew announced. The club took a long time to establish, with Buckalew, who would graduate two years later, spending lots of his time to create the club. He had to first find out if there would be enough interest on campus. Afterwards, he had to 'legally approve the translation and distribution of videos' from Anime companies all across the United States. He then contacted other groups to help increase membership.[2]
Membership began to slowly grow, but for awhile the numbers stayed the same. Although there is no exact document that claims true, it seems Drake Anime Club 'vanished' or was inactive for awhile.
In 2005, the president of the club, Jim Smylie and a member of the Drake Anime Club, Hope Donovan, "…decided to get the club up and running again." Smylie stated that although the club had been alive, membership had begun to decrease. "We also thought this campus could benefit from our club, which gives Drake students the chance to check out something produced by a very different culture," Smylie had said. Together, both Smylie and Donovan planned what shows to watch beforehand, and that is the way the shows are decided today; before the year starts.[4]
The Drake Relays Street Painting: Anime Club Square
For many years the club has participated in the street painting square for the Drake Relays. The past couple years, D-chan, the club's mascot, appears in the square. The club usually decides on what goes in the square based on a series they've watched that current year. For example, in the 2010 square, 'Spike-Lagann,' was inspired from a series called "Gurren Lagann," which the club had watched that very year. [1]
Jeopardy
Besides painting the square, the club also has jeopardy every semester. The first club meeting in the fall is usually 'Jeopardy Day'. Valentine's Jeopardy Day appears during second semester near Valentine's Day. The questions aren't all about anime and manga; there are also some random questions in there about random stuff. There are also prizes that are given out; but because Anime Club barely has a budget, the money for prizes comes out of the council's own pocket.[1]
Anime Movie Monday and Marathons
The first Monday of the month is 'Anime Movie Monday' night. The council decides on a movie beforehand, and everybody is always welcome to attend.[1] The last Saturday of every month is 'Marathon' day. The council decides on a show to watch and they watch the whole entire series in one day. [1]
Events
Only recently is the club becoming more active and have begun to plan all-campus activities. For the fall semester of 2010, the club created an event called, "What is Anime?" that took place at the Morehouse Residence Hall Ballroom. This event helped introduce anime to people who've never heard of it, with included multiple activities including an anime movie called, "Howl's Moving Castle". A raffle with prizes was also held at this event.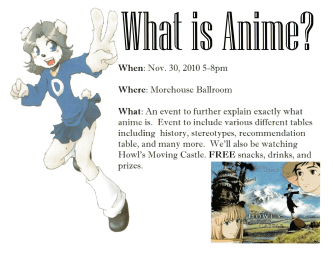 Drake Anime Club is also planning an event for the spring semester of 2011, focusing on the culture of anime. Very little information about this certain event is known currently, but it will soon take place.[1]
Anime Conventions
Due to low budget, the club usually goes to outside campus anime conventions at the cost of bringing their own money. They try to go to a convention every year, yet summer conventions are out of the question because organizations are not allowed to do summer events.[1]
Facebook
The Drake Anime Club also has a Facebook page to help remind the members of certain events coming up, or just a simple way to share pictures of the club with everyone.
References
1. Hopson, Tessa. (2010, Oct. 7th). Interview. 2. Hunt, Angie. (1995, Oct. 31st). New Club Brings Anime to Drake. Times-Delphic. 3. Roth, Alex. (2009, Jan. 29th). Anime Proves to be Popular. Times-Delphic. 4. Zimmerman, Andrea. (2005, Feb. 24th). Anime Club Requires Little Responsibility. Times-Delphic.