Artwork Outside of FAC
Orignally submitted by Larissa Wurm, Dec 16 2010, Drake University
The Rosati Sculpture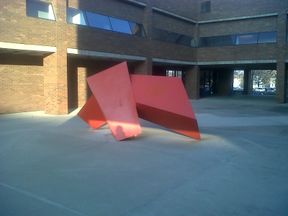 The Rosati Sculpture was donated to Drake University in 1971 when the Fine Arts Center was built. It was donated by Florence Cowles Kruidenier in memory of her husband, David S. Kruidenier. It's made of Corten steel, which is a steel made especially for outdoor weather. The sculpture was made by James Rosati.[1]
The Fine Arts Center, which was made to "define the east side of campus" was balanced out by the sculpture and the auditorium[2]. The sculpture is not named.
"Joy of Music"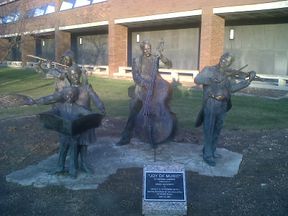 The "Joy of Music" sculpture was donated to Drake University in 1994 by Dwight D. Opperman. Opperman was a 1951 graduate of the Drake University Law School. He now is on the Board of Governors of Drake University The sculpture was made by George Lundeen.
Location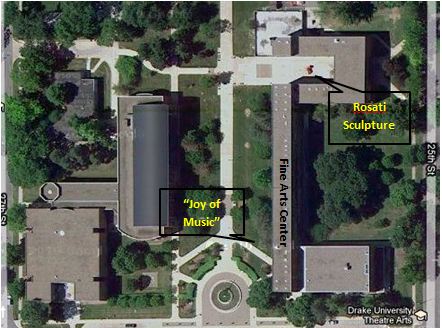 Resources
[1] Facilities Connected With the Cowles Family at Drake University. Retrieved December 16, 2010 from Cowles Family Publishing Legacy Web site: http://www.lib.drake.edu/heritage/GardnerCowlesFamily/CowlesFacilitiesAtDrake.html [2] (1972). Henry G. Harmon Fine Arts Center. Press Release.