Charles Ritchey
Charles Ritchey (October 13,1885- September 2, 1959)
Originally submitted by Jilaine Sweiger on November 29, 2011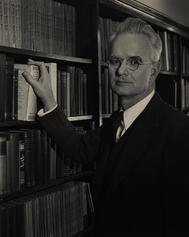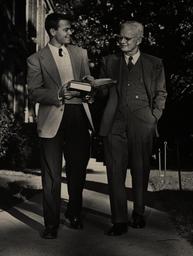 Early Life
Charles James Ritchey was born October 13, 1885, in Mt. Sterling, Illinois. He had a brother named George and a sister who married and became Mrs. Charles E. Dunn [2]. Charles attended Eureka College in 1906-1907. After only being enrolled for one year he moved and became a student at Drake University from 1907-1910 where he obtained a Bachelor of Arts degree in New Testament History and Literature with a minor in Church History and Classics [3]. From 1911- 1913 he went to Yale to receive his masters and then on to the University of Chicago in 1914, where he earned a Ph.D. [4]
Jobs
Charles Ritchey was an esteemed professor at multiple colleges including Stockton Culver College, located in Canton Missouri, Elmira College in upstate New York, Carleton College in Northfield, Minnesota, and Macalester College in St. Paul, Minnesota. In September of 1932 he joined the faculty of Drake University as a history professor and the head of the department of Liberal Arts. [6]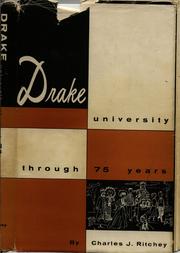 Organizations
Charles Ritchey was a part of many professional, honorary, and civic organizations including the American Historical Association, Mississippi Valley Historical Association, Minnesota Historical Association, Iowa Historical Society, and Phi Beta Kappa. He was also the Chairman of Faculty committee for the inauguration of President Harmon in 1941, and a member of the Commmittee on University Objectives. [7]
Publications
Charles wrote two articles titled "Claim Associations and Pioneer Democracy in Early Minnesota" published June, 1928, as well as "Martain McCleod and the Minnesota Valley", published December, 1929. He also wrote "Drake University through 75 years". [8]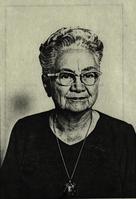 Married Life
On June 29, 1916, Charles James Ritchey married Mary Gertrude Still, who was a secretary to Dean Norton in the College of Liberal Arts. [9] On December 19,1918, Mary gave birth to a boy named Leslie McCaw Ritchey. On January 24, 1923 a girl came along named Frances Arlene Ritchey. [10]
Later
Charles retired in June of 1956. Both he and his wife became a part of the Alumnae Association and University Dames. Charles died on September 2, 1959 [13].

[1] [2] [3] [4] [5] [6] [7] [8] [9] [10] [11] [12] [13]