DRxUGS
DRxUGS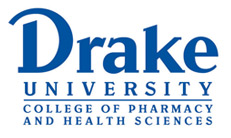 Originally submitted by: Jared Netley, Drake University, November 26. 2010.
Drake University's College of Pharmacy and Health Science first founded DRxUGS in 2000. DRxUGS is an acronym for Drake Pharmacy (Rx) Unified Group of Students. DRxUGS serves as an umbrella organization for the pharmacy program's national organizations, and all students with a pharmacy/pre-pharmacy major are welcome. Members of DRxUGS are part of the campus organization, the Iowa Pharmacy Association (IPA), and a national level one that is chosen by the member. Each year, around 350 people join DRxUGS and they represent Freshmen, Sophomores, P1s, P2s, and P3s.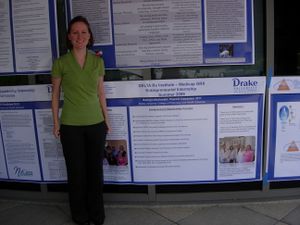 Organization within the Group
DRxUGS is set up to be a large group divided into smaller parts. Every member is part of the campus organization and the Iowa Pharmacy Association. Each student then signs up for a smaller national organization that he/she will participate in. The larger group aspects are designed to get students involved and meet other students of the same major and get them familiar with the professional setting. The smaller groups are dedicated to build closer knit relationships with people of the same interest. National organizations are normally based on future plans of the student.
National Programs and Their Core Beliefs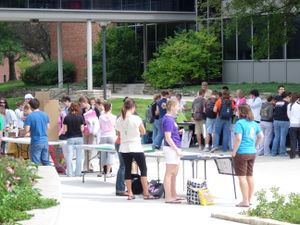 Special Activities Group Wide
DRxUGS offers many group get-togethers that include all of the smaller organizations. DRxUGS is the sponsor of the College of Pharmacy and Health Science Activities Fair. The fair is a collaboration of pharmacy and health science organization that are on Drake's campus. The fair is like the campus wide fair, but aim only to recruit pharmacy and health science students. DRxUGS also plans and sets-up for the college holiday party, called Mistletoe Mingle, for students and staff of the pharmacy college. The group also offers large lectures and social get-togethers over the span of the year. DRxUGS also sponsors a tree at Make-a-Wish's Festival of Trees and Lights in Des Moines every year.
Special Activities for National Groups
Each small group holds a general meeting each month for their members. Small group meetings could involve special speakers, events, and activities that represent the values and goals of the national group. Some of the national groups have their own special events. APhA-ASP does a patient counseling competition, patient care projects, such as Operation Immunizations, Operation Heartburn, Operation Heart, and Operation Diabetes). AMCP competes in the P & T competition, a national competition for all AMCP chapters. ASHP does clinical skills and local hospital tours. NCPA does Katy's Kids prescription drug safety presentations and local pharmacy visits.
Q & A with DRxUGS' President - Abby Matulewicz
Q: When did you join DRxUGS and what made you join?
A: I joined DRxUGS as a P1. I had heard other pharmacy students talk about DRxUGS and the different opportunities it offered, like getting to know older students and participating in various events, and I thought it sounded like something I would be interested in. Plus, it seemed like an easy way to get more involved in the actual profession of pharmacy, which I think is something unique compared to other organizations on Drake's campus. Q: What is your favorite part about being in DRxUGS?
A: My favorite part about DRxUGS is getting to know younger and older students in the pharmacy program, and learning from them what to do to be successful in pharmacy school. I also love all of the opportunities that many of the national organizations have to get involved in the community, and the ease at which I can do so.
Q: When trying to promote DRxUGS to incoming students, what are some of your "selling points"?
A: By being in DRxUGS, you become involved in pharmacy on a campus, state and national level through membership in IPA & a national organization.
Q: What do you think DRxUGS offers students that other groups don't?
A: DRxUGS provides several leadership opportunities that are available right away, even to freshman.

For more information about the Individual Committee Jobs, Please Click Here.
References:
[1] College of Pharmacy and Health Sciences. (2010, Sept. 14). Student Organizations and College Committees. Retrieved October 5, 2010 from http://www.drake.edu/cphs/index.php
[2] Matulewicz, A. (2010, October 5). President of DRxUGS, Drake University. Interview.