Drake Mascot
Drakes Mascot - Spike the Bulldog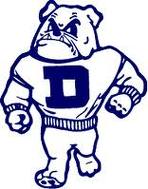 Originally submitted by Brad Johnson, Drake University, December 8th, 2010
HISTORY
There was a contest held on April 1, 1936 to name Drake's newly acquired mascot, the bulldog. The prize for winning the contest was one dollar. Mr. E. C. Lytton, a business man for the university, was the judge of the contest [1]. Don Marshall, of Toronto Canada, sent a pedigreed bulldog to Drake University, which was named "Butch", on March 20th [2].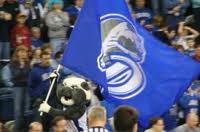 SPIKE THE BULLDOG
Spike has been the mascot of Drake University from 1930's to the present day. Spike the Bulldog is very connected to pop culture. Spike has his very own Facebook page as well as a Twitter page. Spike also has his own "army". "Spikes Army" is a program that gives a student points for going to athletic events, and at certain point levels students can redeem their points for food, clothes, gift cards, sporting and theater tickets, as well as coupons. Spikes Army not only has one Facebook fan page, but several [3][4]. In 2010, Spike placed 5th in the College Cheerleading and Dance Team National Championship. The event was held at Disney World from January 15-18. In that contest Spike performed a "Tribute to 2009" which had references to Michael Jackson, Farah Fawcett, Patrick Swayze, Billy Mays, and Michael Vick. Spike also mimicked other mascots as well during the contest [5]. On February 1st, 2008 Drake students participated in the Iowa College and University Snow Sculpting Contest. The sculpture of Spike was carved out of a 10 foot tall block of snow [6]. There is also Facebook group to get Drake to actually change its mascot from Spike to Chuck Norris. There are 14 members in this group, which was created in 2006.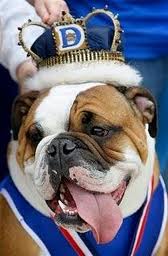 THE BEAUTIFUL BULLDOG CONTEST
Pictures from "The Beautiful Bulldog Contest" can be found on CBSNews.com. The contest kicks off The Drake Relays festivities. The winner of the 2010 pageant was Meatball, owned by Ryan and Kati Anderson. There is a capacity for this event, which is 50 dogs, and in 2010 the contest filled up within 22 hours of the start of registration. In 2011, the Beautiful Bulldog Contest will be celebrating its 32nd year.
REFERENCES
WORK CITED
[1] The Times Delphic. Friday, March 27th, 1936. Vol 54, No 18.
[2] The Times Delphic. July 1936. Vol 55, No 00. Page 32
[5] Drake University Archive 12-20-2009
[6] Kelly Donovan, Lisa Lacher. Drake University Archive 1-29-2008