Francis Marion Drake
Francis Marion Drake (December 30, 1830-November 20, 1903)[1]
Originally submitted by Bethany Jackson on November 29, 2011, Drake University
Early Years
Francis Marion Drake was born on December 30, 1830 to John Adams Drake and Harriet Jane O'Neal in Rushville, Illinois. Francis Marion Drake's parents were from Nash County, North Carolina and moved to Illinois before Francis was born. His father's roots even traced back to Sir Francis Drake, along with the Adams family. John Adams, Francis Marion's father, had a very successful career. He practiced carpentry until 1830 when he gained a large amount of money. After joining the business field, he gained a career in banking. He continued with this for most of his life, gaining much success. After moving from Rushville to Fort Madison, Iowa, he became the Probate Judge of Lee County in 1837. He again moved to Davis County, Iowa in 1846 where he founded Drakeville, which is known as Drakesville today. In Drakesville, he and his two sons, John Hamilton and Francis Marion, built a general store, along with a packing and milling business. Mr. Drake was elected a member on the Whig ticket and served on the Iowa State Legislature representing Davis County during the 1852-1853 session. With these businesses, the Drake family became very successful. After ten years of good business, the Drake family moved again, to Centerville, Iowa. In Centerville, John Adams Drake became the president of Centerville National Bank, and served in this position until his death in 1880. While John Adams was making a successful career, his wife was at home raising their nine children. Harriet Jane was a very intelligent woman, who had a strong religious background.[2] John Adams Drake and his wife Harriet Jane Drake are buried in Drakesville Cemetery in Drakesville, Iowa.[3]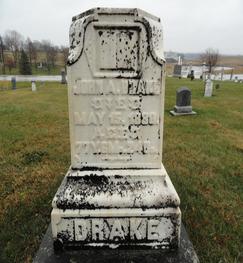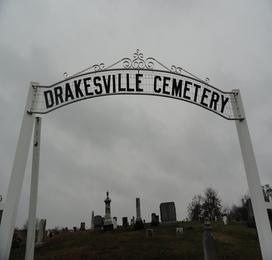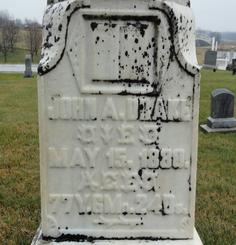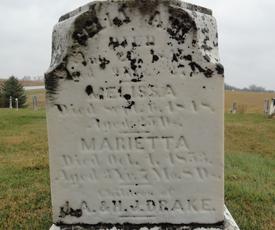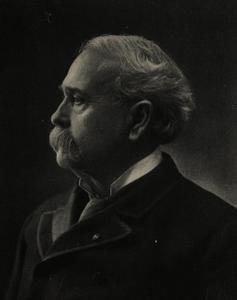 Life of Francis Drake
Once Francis Drake returned home, he went back into business with his father and brother at Drake and Sons. On January 1, 1858, Francis Marion Drake withdrew from the company he shared with his father and brother, took his part of the business and continued with his milling business. Drake was enlisted and commissioned Captain of Colonel Edward's Independent Iowa Regiment and was eventually elected major. Drake was made Lieutenant Colonel in 1862 of the Thirty-Sixth Iowa Infantry. On April 25th, 1864 at the battle of Mark's Mills, Drake was in command of nearly 6,000 men. He was severely wounded in the left thigh, with the wound being pronounced mortal. The thigh bone was slightly fractured by a Belgian ball that weighed a mere one and a half ounces, and the bone split the ball and the pieces were removed from different parts of the body later. Just six short months later, Drake felt well enough to rejoin his command at Little Rock, being aided by crutches. He was given the title of Brigadier General of the United States Volunteers and was assigned for duty commensurate along with his rank. Once the war was over, Francis Marion Drake returned to the mercantile business. Due to wounds he received in the war, he could not give it as much personal as he would have liked. He soon became associated with law practice in union with Judge Amos Harris. From this, Drake gained the reputation of being a good criminal lawyer.[4]
General Drake's Honors
Over the years, General Drake was involved in the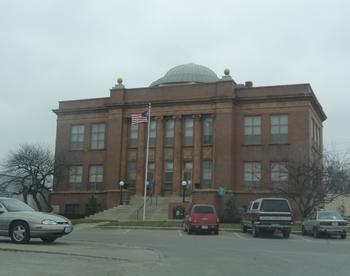 railroad and banking business, along with the operation of five railroads. He was also the president of the Indiana, Illinois, and Iowa Railroad, Albia and Centerville Railroad Companies, a director of the Keokuk and Western Railroad Company, and the president of the Centerville National Bank. On top of these honors, Drake was the president of the board of trustees of Drake University, with him being a founder of the university. He was also involved with many other educational institutions and churches. Drake also held the position of the Iowa State Board president.[5]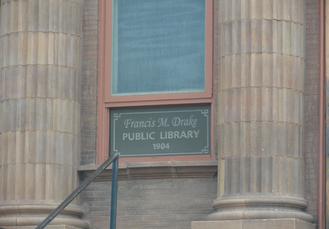 On July 10, 1895, General Drake was nominated by the Republican Party and on November 5, 1895 was elected Governor of the State of Iowa. He received this honor with an overwhelming majority of votes. Drake had received many honors from the Republican party throughout the years, including Sir Knight of the Mason's, an honorary member of the Odd Fellowship and Masonry, and was honored as a delegate from Iowa to three Republican national conventions, to name a few. The Drake Public Library in Centerville, Iowa was a gift from Francis Marion Drake and was named in his honor.[6]
Francis Drake's Family
Francis Marion Drake married Mary Jane Lord on December 24, 1855. Mary Drake was a much respected woman in the community, with great intelligence and was a strong leader in her church. Throughout their marriage, Francis Marion and Mary Jane had seven children. George Hamilton, passed away at the young age of twenty-two months in 1870. The other six children included, Frank Elsworth, John Adams, Amelia, Jennie, Eva, and Mary. Frank continued to live in Centerville and was the president of the Centerville Coal Company. He married Flora Bisset in 1883 and had one son, Francis. John, who moved to Chicago, was the secretary and treasurer of the Indiana, Illinois, and Iowa Railroad Company. He married Dula Heisel Rae in 1893. Amelia married T.P. Shonts and resided in Chicago as well. Her husband was the general manager of the Indiana, Illinois and Iowa Railraod. They married in 1881 and had two daughters, Marguerite and Mary Tehodora. Jennie married Dr. J. L. Sawyers, a physician and surgeon of Centerville. They married in 1883 and had three children. Their two daughters were Mary and Hygiene, and their son was Francis Lazelle. Eva married Henry Goss, a boot and shoe merchant in Centerville and had one son together, Joseph Marion. Mary, the youngest of the seven, resided in Centerville with her parents.Francis Marion Drake passed away on November 20, 1903 in Centerville, Iowa. He is buried at Oakland Cemetery in Centerville, Iowa next to his wife, Frank Elsworth and George Hamilton, both sons and one daugher, Mary resided in Centerville with her parents.[7]
Citations
1. Craver, G. (2000, July 20). Francis Marion Drake. Retrieved November 15, 2011, from http://www.findagrave.com/cgi-bin/fg.cgi?page=gr&GRid=5024935 2. Knight, M. (2009, August 15). Francis Marion Drake. Retrieved November 15, 2011, from http://iagenweb.org/boards/appanoose/biographies/index.cgi?read=244510 3. Decendants of John Drake. (n.d.) Retrieved November 15, 2011, from http://familytreemaker.genealogy.com/users/d/r/a/Lawrence-R-Drake/GENE1-0010.html 4. Knight, M. (2009, August 15). Francis Marion Drake. Retrieved November 15, 2011, from http://iagenweb.org/boards/appanoose/biographies/index.cgi?read=244510 5. Knight, M. (2009, August 15). Francis Marion Drake. Retrieved November 15, 2011, from http://iagenweb.org/boards/appanoose/biographies/index.cgi?read=244510 6. Knight, M. (2009, August 15). Francis Marion Drake. Retrieved November 15, 2011, from http://iagenweb.org/boards/appanoose/biographies/index.cgi?read=244510 7. Knight, M. (2009, August 15). Francis Marion Drake. Retrieved November 15, 2011, from http://iagenweb.org/boards/appanoose/biographies/index.cgi?read=244510