George Thomas Carpenter
George Thomas Carpenter (March 4, 1834 - August 5, 1892)
Originally Submitted By Nathan Bryngelson, Drake University, December 3, 2010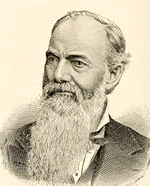 Born in Nelson County, Kentucky, on March 4, 1834 was a man named George Thomas Carpenter. George's father passed away shortly after he was born, so George was raised the first seven years of his life with a single parent, after those first seven years his mom remarried. After the marriage she moved George to Bureau County, Illinois and where George continued his adventure to man hood. As a young kid people started to note George's characteristics of being a energy filled, happy boy. Prior to college, George attended Princeton Academy supporting himself by chopping wood in the winter and doing other odd jobs. At about 20 years of age George traveled to Iowa to teach his first school and attempt to be a minister in Greenbush, Warren County. Once George left Iowa he went back to Illinois to teach two terms in his home district receiving advances of $5.00 a month. George was offered greater advances to stay and teach, buy politely George declined wanting to advance in a college course. George attended Abingdon College and graduated in 1859 after delivering the valedictory address [1].
Back To Iowa
Once Graduated, George came back to Iowa, living in Winterset. George maintained teaching and preaching for two years of success until an opportunity arose. George's brother, W.J. Carpenter, and George were offered an opportunity to open Oskaloosa College in Oskaloosa, Iowa. They accomplished this task diligently and in circumstances that would have discouraged others. George was connected to Oskaloosa College some 20 years as the presiding officer and was also the editor-in-chief of the Christian Evangelist. About four years later George married Miss Henrietta T. Drake, of Drakesville, Iowa in 1863. Henrietta and George had a son and three daughters. George was appointed to a United States Honorary Commissioner to the World's Fair at Vienna, Austria in 1873. He spent several months at the fair touring Europe. George's tour was sketched and described, then published in the Evangelist. A few years later George was nominated by the prohibition unanimously for the Governor of State, although he declined, it was an honor [1].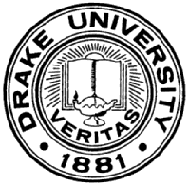 Founding Drake University
About seven years after his nomination, George started itching to build a University in Des Moines, Iowa. George looked the city up and down for a perfect spot to build a great university, but did not seem possible in his eyes until 1880. Elder D. R. Lucas made a suggestion to George, which George seized, turning into the founding of Drake University the following year. The suggestion was to find a land company that would buy, plat, and resell a piece of land in the city. A certain percentage of the revenue would go to the creation of a university in Des Moines. Once the land company was found, a board of trustees was selected and a generous man of the name General Drake of Centerville, Iowa donated $20,000 to the founding of Drake University. His restrictions were that a good building be built and he would not have any form of repayment for his generous gift. The board decided the university would be named after General Drake due to his kind donation [1].
George's Later Years
George started to wear down due to the exhaustive work and not only did George notice his condition, so did the board. In 1888 the board wanted to release George from such a heavy workload and elected Harvey Everset from Wichita, Kansas. Soon after Harvey was elected he was released and Aylesworth was elected. Aylesworth was a young minister that had a great deal of potential. Even though Aylesworth strongly assisted George, financial hardships struck George and had him pressed in a corner. Soon after these hardships the two-year education plan was dropped and a more traditional four-year courses were offered. George was given a leave of absence hoping he would bounce back from is deteriorating conditions. In late 1892 George and his wife moved to California to get away from it all. Soon after returning back to Iowa, Aylesworth had taken over all of George's duties and on August 5, George passed away [4].
The Chancellor's Elm
After George's death, in honor of has accomplishments a tree was honored in his name. The tree was known as the Chancellor's Elm and stood toward the southeast corner of Old Main on Drake campus. This tree also was one that George used to climb when he was scouting places for the university. The tree turned into a tradition at Drake where a coed was to be kissed under the Chancellor's Elm before they were considered a true Drake coed. The big elm tree had to be cut down, unfortunately, due to elm disease in 1969. George will always be remembered for his hand in the creation of Drake University [3].
According to George Carpenter in his 1884 Drake University commencement (1884)
"Institutions of learning . . . must come under this rule. 'By their fruits ye shall know them.' Do those croakers against a collegiate curriculum know what a practical education is? . . . Is it not that which gives the mind the most power and adaptability? . . . The credentials that your young and hopeful Alma Mater will soon confer upon each of you, can only give you an introduction to the world of letters and of actual life. They can serve you no further . . . In whatever of the varied and various vocations of life you may engage, as well as in general society, you must work out your own destiny" [3].
References
1.) George Thomas Carpenter. 1890. The Ekard. 1, 21-24
2.) Unknown artist. http://www.mun.ca/
3.) Unknown artist. (November 26, 2010.) Drake University http://en.wikipedia.org/wiki/Drake_University
4.) Blanchard, Charles. 1931. History of Drake University. Drake Times Delphic,
5.) Ritchey, Chas J. 1881-1956. The Chancellor's Plan. Drake University Through Seventy-Five Years. 66-69.
Bibliography
Carpenter, George. 1885. The University's Future. The Delphic. 1(5), 1-2
Herriot, F. I., 1931. George Thomas Carpenter "An Appreciation". The Drake Alumnus. 3-7