Habitat for Humanity
Habitat for Humanity
Originally Submitted By: Larissa Wurm, Drake University, Dec 1, 2010

What is it?
Habitat for Humanity is a non-profit organization that strives to eliminate poverty and homelessness in over 3,000 communities all over the world, building homes for low income families.
History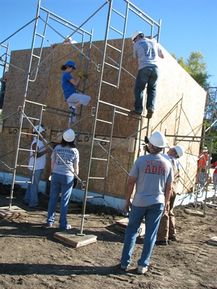 Millard and Linda Fuller founded Habitat for Humanity in 1976, inspired by Koinonia, which is a small Christian community in Georgia. In September 1976, Millard and Linda had held a meeting to talk about where the wanted the organization to go, and it was decided to make Habitat for Humanity an international organization. U.S. President Jimmy Carter visited in 1984, giving Habitat for Humanity publicity and spread national interest in the organization [1].
How does it work?
Families must go through an application process to be eligible for a home. As part of the program, they must also put volunteer hours into homes, their own as well as others (they call this "sweat equity"). The work is done by volunteers so the labor is free, and the supplies are donated, bought with donations, or bought with payments from new house owners. They also use money they get from fund-raising. After being built, the houses are sold to the families with affordable, no-interest loans. The houses are built depending on the culture and weather using quality materials that are available in the area. The sizes of the houses are made big enough for the families who need them, but not bigger than necessary [1].
Habitat for Humanity at Drake University
Drake University
is part of the
Greater Des Moines
] affiliate of Habitat for Humanity. The Des Moines chapter started in 1986[2]. The chapter at Drake was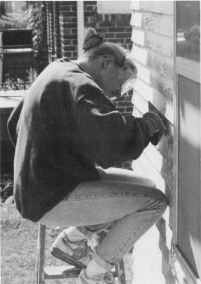 officially recognized on September 24, 1992, by the
Drake University Student Senate
. It had informally started when students began gaining interest in it after working with the Greater Des Moines chapter the year before. Reverend Jim Nelson, of Grace United Methodist Church and a former adviser to Drake's Habitat chapter, says "Habitat's goals are to raise student consciousness of the need for low income housing, acquire resources for action, recruit groups and individuals from Drake, and foster a relationship with the families." Robin Sautter and Allison Gibble are the current co-presidents of Habitat for Humanity at Drake [3].
"My favorite memory is when I went on a build day and got to work on the roof of a house. It was really cool to do different tasks that I have never done before. I got to be on a roof and use a hand saw. It was really fun to work with everyone on building the house and fulfilling to know I was helping a family get a home." -- Allison Gibble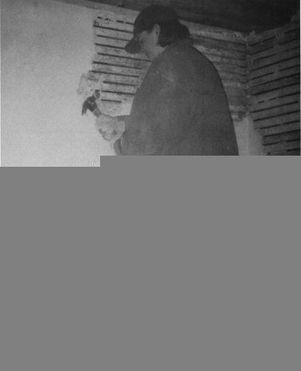 Habitat On Campus
In the spring of 1993, members of Drake's Habitat for Humanity worked on a house that had been sold to them and would shelter a new family. Students involved were in charge of providing the supplies they need and scheduling when they would work. They also had to coordinate with Grace United Methodist Church and the Drake Newman Community. Sister Mira Mosle, from the the Newman Community, said "There is a great advantage to having our own house. We can put the chapter's efforts into a single project, one that's in Drake's neighborhood" [4].
Resources
[1] Habitat for Humanity International. http://habitat.org/
[2] Greater Des Moines Habitat for Humanity. http://gdmhabitat.org/
[3] Fischer, K. (9 October 1992). Habitat for Humanity builds Drake chapter. Times Delphic (Drake University, Des Moines, Iowa) pg. 1.
[4] Fischer, K. ( 13 April 1993). Habitat begins work on own house. Times Delphic (Drake University, Des Moines, Iowa). pg.3.
Habitat for Humanity Logo is from Habitat for Humanity International website