Knapp Tennis Center
Roger Knapp Tennis Center
Originally Submitted by Zeah Peterson on October 6, 2011
History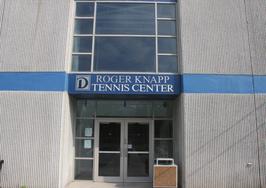 The first considerations of a tennis center came about in the early spring of 1991 [1]. The tennis center would be an addition to the construction plans for what is now the Knapp Center. The construction plans for the Knapp Center also included plans for a new science building, law library, and renovations to [Old Main] [2]. The tennis center became a topic of discussion because Drake wanted a place for recreational tennis. It would also be a way for the Drake tennis teams to practice and play at a home court. Before having this center the teams had to travel to Timberline Tennis Ranch in Grimes [2]. The actual meeting to decide whether to take on the project happened on February 21, 1991. The building was under much debate for a few months. It wasn't until September, 1991, that the building got underway. The estimated finish time was eight months, but builders needed a few more months to finish up [3]. The dedication ceremony of the tennis center was on October 10, 1992 at 11:30 a.m. The ceremony consisted of exhibition games put on by the men's tennis team followed by the dedication of the center. The first official competition was November 6-8, 1992. It was the National Indoor Team Tournament for the men's tennis team[2]. [Link to Godrakebulldogs.com page about Roger Knapp Center]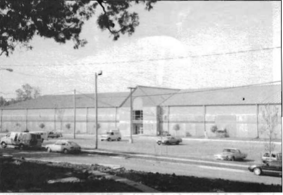 Contributors
Drake University received a lot of financial help from one family. William "Bill" Knapp, chairman of Iowa Realty Company, donated $3.1 million to help with the construction of the multipurpose building[4]. When it was decided that the tennis center would be built, $500,000 of the donated money went to the tennis center project. Bill Knapp, donated an additional $100,000 to help out. Roger Knapp was another big part of this project [3].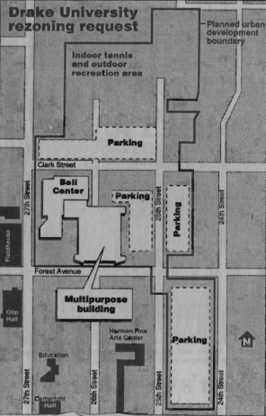 Namesake
Roger is the son of Bill Knapp and was the men's tennis coach at Drake during the time of construction and debate. He was a big supporter of having the tennis center, so the team could have a home court to practice on [2]. Roger Knapp brought much success to Drake University throughout his five years of coaching. Knapp transformed Drake into a dominant threat in the Missouri Valley Conference, and finished his coaching career with a 72-46 record [5]. He lead them to their first ever NCAA team championship appearance in 1992. In honor of his dedication to the program, Drake University recently changed the name of the tennis center to the Roger Knapp Center.
Architecture
The tennis center was a $1.7 million project taken on by Ringland-Johnson-Crowley Company, the same contracting company that built the Knapp Center [4]. The building is 48,000 square feet and can seat 320 people. There are six indoor courts and six outdoor courts used for recreation and completion. Along with the tennis courts, two indoor basketball courts, playing fields for soccer and softball, and 190 new parking spots were also built [3]. The Roger Knapp Center is located at 2585 Clark St. It is north of the Bell Center and Knapp Center and Northeast of Drake Stadium.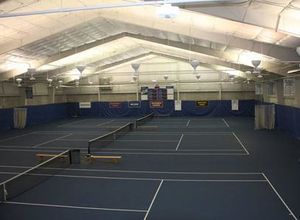 References
[1] Beeman,P. (February 13, 1991). Drake adds to plans for sports complex. Des Moines Register, pp. 1A, 4A.
[2] Elola,K. (October 9,1992). New tennis center open for business. Times Delphic,111, p.10.
[3] Schmitz, T. (August 30, 1991). Arena plans are expanded. Times Delphic, p. 15.
[4] Tennis Center to be dedciated "officially opened". (October 9,1992). OnCampus, 45, pp.1-2.
[5] O'Neil, T. (April 3, 2008). Aneurism claims Knapp. Times Delphic, 126, pp. 1, 7.