Madelyn Levitt
Madelyn Levitt
Originally submitted by: Cara Collins, Drake University, Dec 2, 2010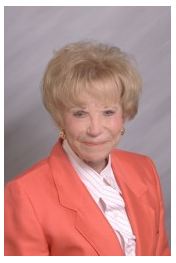 Maddie Levitt; a mother, wife, friend, grandmother, but most notably to Drake; one of the greatest philanthropists Iowa has ever been blessed with. She led a lifetime of love and support not only for her family but also for Drake University.
The Early Years
Growing up, Maddie lived in a Jewish family that was always very supportive of her. Her father was very active with Drake University and her mother supported their every move. Even as a child, Madelyn had much determination and passion for what she did. At the age of eight years old, she participated in her first philanthropic event as a brownie Girl Scout, which began her many years of philanthropic events such as campaigns, and became her lifelong career.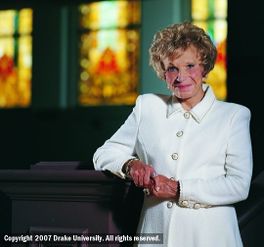 College: Career and Schooling
Maddie attended college at Ohio State University, graduating with a Bachelors of Science degree in Education. She then taught high school English for three years and many years later started her volunteer work for Drake University. [1] Maddie was a Des Moines native and lived a short ten minutes from Drake University. Just like her father, she served on the Drake University Board of Trustees. In one of her question/answer sessions she discussed how even though she had never attended the school, there was nothing that she disliked. That, if she were to name something that she would change, anything she would say would be a lie. She appreciated every aspect and effort that went into Drake University, and always said "how can I help that University be all it can be," was something she always kept in mind when starting a new project. [5]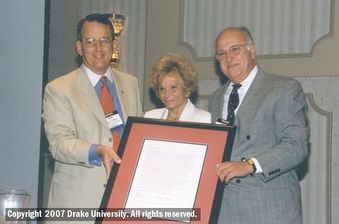 Inspiration
After working for Drake for ten plus years as a full-time volunteer, she was then given the title as Special Counsel to the President by President Maxwell for all of the hard-work and dedication she had given to the school. [2] Even though she was given this new title, she never let it go to her head. Everything she did in life, she did with hard work, almost as if it were the last thing she would accomplish and how she wanted to be remembered. When asked where her dedication and inspiration for giving came from, her answer came quick and with force; "my father, Ellis Levitt", was her reply. Ellis Levitt served on the Drake University Board of Trustees and was Chairman of the Dial Corporation, which was later renamed to Dial Finance before it was purchased by Norwest. He always said he had two great loves in life, one being Maddie's mother and the second Drake University. His involvement with the University was a major influence on how Maddie perceived life itself; she continuously stated that she did what she did for him. Her admiration and love for the institution kept her at the University for more years than much of the faculty. [1]
Climbing the Ladder
Although she had much success, life is not always easy and sometimes the hard times only make you stronger. A favorite quote of hers was, "I think the more you give, the more you get in return in life." Before her death, she went through love, laughs, divorce, and a wonderful and loving family of children and grandchildren who supported her throughout. [5]
Madelyn is not only known for her inspirational attitude, but was also highly recognized for the many campaigns she helped facilitate, her first being in the year 1985 where she headed the annual fund raising campaign of United Way of Central Iowa as the first chairwoman. This campaign alone brought in 7.6 million dollars to serve the needs of those less fortunate. After spending much time and effort with the United Way campaign, she then moved on and headed one of Drake University's campaigns, lasting from 1989-1994, her first campaign for the University. She helped raise more than $130 million, including personal contributions totaling $5.4 million. [3]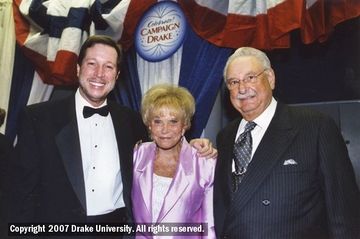 Awards and Achievements
During her many years, commitment, and hard work, she climbed the ladder and was given many awards and recognition for her achievements. On April 13, 2000, Maddie was inducted into the Central Iowa Business Hall of Achievement, which recognizes accomplishments of Iowans that have made important contributions to area businesses and industries. She was one of three to be inducted on that day. Before her death, she got the chance to accept the Drake Philanthropy award at the age of 83. According to Gov. Terry Branstad, "she's truly one of the greatest philanthropists Iowa has ever been blessed with." [4]
As her many years flew by, her life will never be forgotten. She will always be remembered for her impact on Drake University. Drake has been blessed to have Maddie Glazer Levitt as a great philanthropist and supporter.
Resources
1) MacLaughlin, S. (2002, September 30). Levitt continues to contribute to Drake. The Times Delphic, p. 5.
2) Mark, B. (2002, October 29). Levitt appointed Special Counsel to the President. The Times Delphic, p. 3.
3) Tarbox, J. (1998, April 23). Leave it to Levitt: a leader with experience. The Times Delphic, p. 7A.
4) Goehl, J. (2000, April 14). Drake volunteer inducted into Business Hall of Achievement. The Times Delphic, p. 1,3.
5) Stuhler, K. (2004, December 6). Maddie Levitt leaves lasting mark on Drake. The Times Delphic, p. 9