Martha Alice Burton
Martha Alice Burton
Originally submitted by Leah Walters on December 8, 2011, Drake University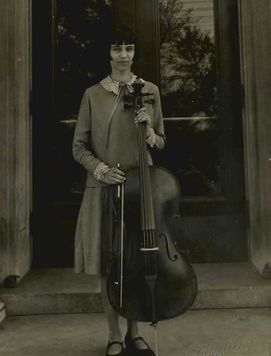 Martha Alice Burton was born in Rock Island, Illinois on September 16, 1911. She lived there with her parents Allden James and Lulu Sherrick Burton and her siblings until she was 7 years-old when her family moved to Des Moines, Iowa. Here, Martha began learning to play the cello and started lessons at Drake University with an instructor with whom she worked throughout her high school and college years. During high school she entered the Iowa state music competition and placed second in 1927 and first in 1928. In college at Drake University she earned an AB degree with a major in mathematics and then spent a 5th year earning a BSM degree with a cello diploma.[1]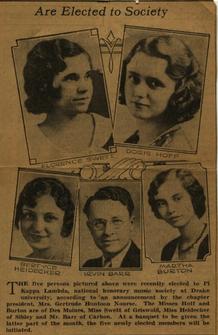 After graduating in 1933 from Drake University with Pi Kappa Lambda music honors, Burton worked as a teacher in various places around Iowa while she continued her studies during the summer. She completed her master's degree in music at Northwestern University in the summer of 1941. That fall she began teaching in Indianapolis where she spent time teaching music and mathematics at the middle school level and then mathematics at the high school level until her retirement in 1973.[2]
During her career Burton devoted much of her time to helping with church activities, worked with the high school choir, taught Sunday school, and helped with summer camps and other various groups.[3] She continued to perform cello and spent many years playing with the Philharmonic Symphony of Indianapolis, serving as first chair in her section for much of the time.[4] Post retirement, she remained an active alumnae in Mu Phi Epsilon, the music sorority she was involved in at Drake.[5] Burton passed away on April 11, 2001.[6]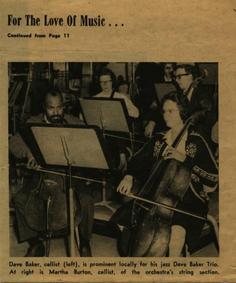 References
[1] Biographical Sketch: Martha Alice Burton. (n.d.). [Martha Burton – Cowles Library Archives] Des Moines, IA: Drake University.
[2] Biographical Sketch: Martha Alice Burton. (n.d.). [Martha Burton – Cowles Library Archives] Des Moines, IA: Drake University.
[3] Biographical Sketch: Martha Alice Burton. (n.d.). [Martha Burton – Cowles Library Archives] Des Moines, IA: Drake University.
[4] Item in the Cowles Library Archives. (n.d.). [Martha Burton – Cowles Library Archives] Des Moines, IA: Drake University.
[5] Biographical Sketch: Martha Alice Burton. (n.d.). [Martha Burton – Cowles Library Archives] Des Moines, IA: Drake University.
[6] Social Security Death Index