Mary Frances Boyd
Mary Frances Boyd
Originally submitted by Kelly Tafoya on December 8, 2011, Drake University.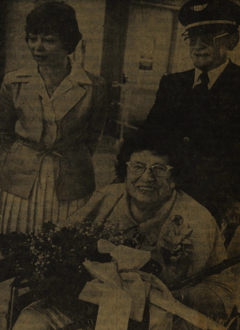 Early Years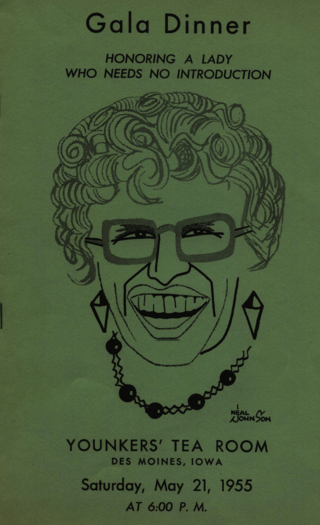 Mary graduated from Drake University in 1906. Mary Jones married John Boyd in 1918. She helped him through his law studies at Drake because he was blind. He died at the age of 43 in 1933 after a trip abroad with Mrs. Boyd while they were studying European history together. Later in her life, Mary eventually earned her master's degree from t he University of Chicago. Before coming to teach at Drake University, she taught in the Des Moines area for ten years at North Des Moines High School and also participated in the First Christian Church, The American Association of University Professors, Red Cross and was also a member of Phi Beta Kappa and Phi Mu sorority. She is best known for her involvement in the University Place Church as a "singularly faithful worker" [2].
Teaching at Drake
Mary Frances Boyd joined Drake faculty in December of 1908 in the department of Romance languages. After earning her master's degree she returned once again to Drake in 1925. She was originally an assistant professor but soon took over and taught her own courses, introducing hundreds of students to a variety of foreign languages and cultures. For 32 years she led tours to Mexico along with a few tours to Israel (the Holy Land as she referred to it as). Spanish, Latin, French and German were the languages she mainly taught to students. She retired from Drake in the 1950s.
Memorial
Mary Frances Boyd died at the age of 98 on September 23 in 1983 after a three month long illness due to a liver ailment. In an oral history she gave to Dr. George Huff, he is cited praising her love of languages and reminiscing about their sophomore year french class. At her service he is quoted saying "she loved languages, but what she loved more than that was sharing that love with others" [3]. Others at her funeral were cited saying that her love for travel had much to do with her acceptance of others. As the gala dinner held her honor said on the cover of its booklet, she's a "lady who needs no introduction".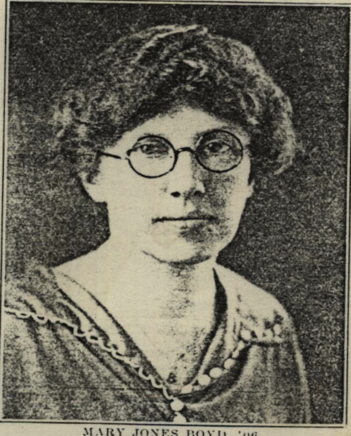 References:
1. Drake University Alumnus (Vol. 2). (n.d.). (Original work published 1914)
2. Former Drake teacher dies. (1983, September 25). Des Moines Register.
3. Huff, G., Dr. (n.d.). The Last Half Century: Background to the Future. Manuscript in preparation, Drake University, Des Moines, IA.
4. McLaughlin, L. (1975, July 16). D.M.'s Mrs. Boyd, Still on Tour, Marks Ninetieth Birthday in Two Countries. Des Moines Tribune.
5. Murray, R. (1978, March 28). Tips for Tourists Presented by Mrs. Mary F. Boyd. Times Delphic.