Maury John
Maurice "Maury" Edward John (June 17, 1919-October 15, 1974)
Originally submitted by: Jared Netley, Drake University, November 25, 2010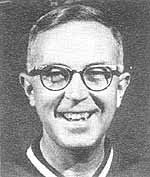 Maury John was the head basketball coach for Drake University from 1958-1971 and Iowa State University from 1971-1974. Coach John had taken Drake to the NCAA three times and he is the most successful coach in Drake's basketball history. Coach John also coached at Moberly Junior College, Union High School, and Lubbock, Texas Air Force Base.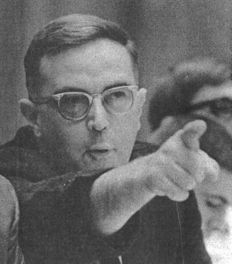 Early Life
Maurice John, nicknamed "Maury," was born June 17, 1919 in Sweet Springs, Missouri. He attended William Jewell College for two years before transferring to Central Missouri State to finish his degree. He graduated in 1941 with a Bachelor of Science in Education. He went on to earn his master's degree in education at the University of Missouri. Coach John married Jean John, and they had two kids, Johnny and Maurice Jr. [1]
Early Coaching
After graduating from college, John went on to coach at Union High School for a year. He went on to serve in the Air Force during World War II. He served for 36 months and then continued coaching at the Lubbock, Texas Air Force Base basketball team. After being discharged in 1946, John went on to be the head coach at Moberly Junior College. He coached at the college for twelve years. The team's record during his time of coaching was 285 wins and 58 losses. He also won the team two national championships and eight state titles. [2]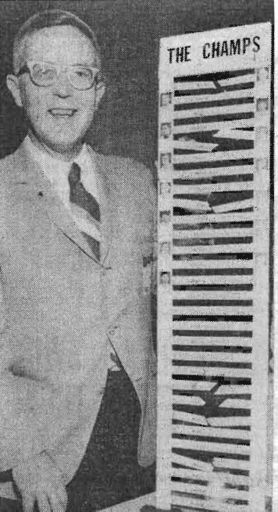 Coaching at Drake
Maury John's first year at Drake was 1958. During his first season at Drake, he had a 9-15 record. However, fans liked John for his aggressive style and his team spirit. John was always said to be a hard worker and demanded the highest effort from his team. It was always a saying that the team might have been outplayed, but they could never be outfought. The basketball team of 1963-64 tied Wichita State for Missouri Valley title. The team went on to play in the National Invitation Tournament (NIT]) in New York City. His best year at Drake, and most famous game in his coaching history, was the 1968-69 team that had a 26-5 record. They won 12 straight games before losing to UCLA in the National College Athletic Association (NCAA) finals. [3] They went on to win the consolation game and went on to place in 3rd place. During his time at Drake, John coached the first team in Drake's history to appear on national television, play in a post season tournament, and rank in the top 10 national wire service polls. The last six years as coach at Drake, John's teams ranked in the nation's top 25 teams. While coaching at Drake, John won the Coach of the Year honor in the Missouri Valley Conference in 1963-64. Drake fans coined John to having a "belly-button" defense, in which he pushed his students to stick out their stomachs and play face-to-face. [1]
John's stats for coaching at Drake
| | | | | |
| --- | --- | --- | --- | --- |
| Season | Overall | Conference | Rankings | Post-Season Tournaments |
| 1958-59 | 9-15 | 4-10 | 6th | |
| 1959-60 | 11-14 | 4-10 | 7th | |
| 1960-61 | 19-7 | 7-5 | Tied-3rd | |
| 1961-62 | 16-8 | 6-6 | 4th | |
| 1962-63 | 11-14 | 3-9 | 7th | |
| 1963-64 | 21-7 | 10-2 | Tied-1st | NIT, Second Round |
| 1964-65 | 13-12 | 6-8 | 6th | |
| 1965-66 | 15-10 | 6-8 | Tied-6th | |
| 1966-67 | 9-16 | 4-10 | Tied-7th | |
| 1967-68 | 18-8 | 9-7 | Tied-4th | |
| 1968-69 | 26-5 | 13-3 | Tied-1st | NCAA, Third Place |
| 1969-70 | 22-7 | 14-2 | 1st | NCAA, Elite Eight |
| 1970-71 | 21-8 | 9-5 | Tied-1st | NCAA, Elite Eight |
| Overall | 211-131 | 95-85 | | |
John's Transfer to Iowa State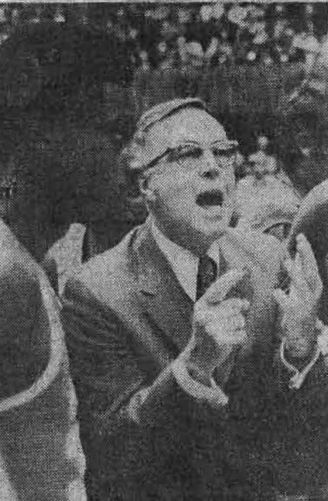 John first interviewed for the position at Iowa State on February 22, 1971. It was on February 28th that he announced that he would accept the job at Iowa State. John responded to Iowa State's offer by saying he wanted to start as soon as possible to start recruiting. The news came as a big shock to fans and students. [4] There are many reasons that may be the reason why John made his switch from Drake to Iowa State. A few ideas are that John was unhappy with the expansion plans of the Missouri Valley Conference and he said that there was little future for him in the new division. Iowa State also offered the new Hilton Coliseum, which would be opening his second season, and a rise. [5]
Coaching at Iowa State
John's first year at Iowa State required a major turnaround for the basketball program. The year before he came, the team had only won five games. John signed five new players to the team and he led Iowa State in a 12-14 record. His second year came with a 16-10 record, a 15 year best for Iowa State. John's last game was played in Des Moines against Drake, and was the first loss of his third season, 61-60. [3] John was forced to resign after a tumor had been found and his health was deteriorating due to cancer. John died on October 15, 1974 at the age of 55. [1]
John's stats while coaching at Iowa State
Season
Overall
Conference
Standing
1971-72
12-14
5-9
6th
1972-73
16-10
7-7
5th
1973-74
4-1
N/A
N/A
Overall
32-25
12-16
References
[1] Maly, R. (1974, October 16) Maury John is Dead. The Des Moines Register. 1-2.
[2] Drake University. (1966). [Brochure]. Des Moines, IA. Author.
[3] White, M. (1994, March 20). John still place in Final Four lore. The Des Moines Register. 8-9.
[4] Keyser, S. (1971, March 2) Drake fans should support John. The Times Delphic. 8.
[5] Minkoff, R. (1971, March 2). John explains his ISU move. The Times Delphic. 1.