Robert H. Helmick
ROBERT H. HELMICK
Revised 12/2/10
Robert Hanna Helmick was born on March 5, 1937 in Des Moines, Iowa. He lived in Des Moines for the majority of his life, including the time he was attending Drake University. In 1957, he received his bachelor's degree in math and music. Then in 1960, he graduated from the Drake Law School. All of his life, Robert played water polo, including a stint when he managed the United States Olympic water polo team. During his time at Drake, Helmick was a member of Phi Beta Kappa, graduated from law school as the valedictorian, and was the editor of the law review.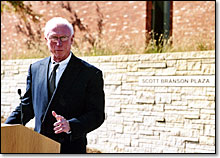 DEEP CONNECTIONS WITH DRAKE
During his childhood, Helmick actually lived directly on the Drake University campus. His house during his early childhood years, stood approximately where Meredith Hall is now located. Robert's father, Paul S. Helmick, was the former head of the Drake physics department, and was a part of the Drake faculty from 1923 to 1964. Helmick's mother, Dorothy H. Helmick taught mathematics at Drake from 1954 to 1960. All together, the Helmick family has received 14 Drake degrees [1].
INTERNATIONAL OLYMPIC COMMITTEE
During 1972, Helmick received his first Olympic experience by managing the United States water polo team. In 1978, he became president of the Amateur Athletic Union, and served until 1980. From 1984 to 1988, Helmick was the president of FINA] or the International Swimming Federation, and even though he had so much going on in his life at the time, when nominated in 1981, he became president of the [http:www.teamusa.org/ United States Olympic Committee], and served until 1991 [2].
DRAMA WITH THE OLYMPICS
At the 1988 Winter Games in Calgary, Robert introduced George Steinbrenner, the former owner of the New York Yankees, as the head of a new Olympics overview committee. The media called this a "knee-jerk" reaction to the United States horrible performance.
Drama once again struck in 1991, when Helmick was accused of using his position of the Olympic committee to influence anyone in the Olympic movement on behalf of his private clients. Eventually, Helmick acknowledged the fact the errors of his judgement, but still denied that he had done anything wrong. Finally, in September of 1991, Helmick resigned from the IOC. In his letter of resignation, Helmick writes,
"I want to strongly reassert my belief that I have done nothing ever of harm to the Olympic movement and I appreciate the support of so many of my colleagues here. I regret the situation that has arisen as a result of how my actions have been interpreted by others."
Although his time with the Olympic committee had a bitter sweet ending, Helmick helped the world increase the resources that were available to the amateur athletes, and by doing this helped the United States become a more fierce competitor at the Olympic games.
HELMICK COMMONS
Growing up on the Drake campus is what started the vision for the Helmick Commons, said Helmick. In an interview by the Times~Delphic, Helmick says that,
"My dream was to not compromise for the students, it should be a place where students feel comfortable. It is a tremendous privilege to have to opportunity to fulfill a vision and for the university to go with the vision that was really created in my boyhood."
The plans for Helmick Commons were very extravagant and extremely expensive. They included revamping the Olmsted parking lot and planting trees in the parking lot and across campus. A few more renovations include the closing of Olmsted Circle and converting it into a patio. A few kiosks will be added around campus for posting announcements and flyers. The Commons will include improved lighting and a wetland area will be added to Quad creek. The agora in between Herriott Residence Hall and Harvey Ingham was also part of the plans, but were donated by a separate sponsor. In the end, Helmick donated over $500,000 to pay for the landscape and remodeling, and donated another $1.5 million for future upkeep. Helmick said the purpose of thewas to be a meeting place, an invitation to students to get outside, and a place to be proud of [3].
"It's about bringing students together. Your success is not acknowledged by the degrees that are on your wall, but what is in your heart." - Robert Helmick
The Helmick Commons Project did not just happen overnight. It had been 13 years in the making, and finally after countless delays and environmental catastrophes, the Helmick Commons were finished in May of 2002; however, Robert Helmick never got to see it finished [4].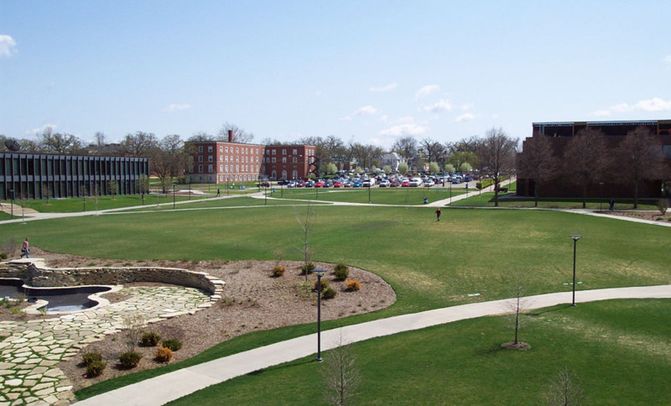 DEATH
Robert H. Helmick suffered a stroke on April 11, 2002, and he never recovered. He died on April 15 at the age of 66 at the Iowa Methodist Medical Center. On April 26, a dedication was held in honor of Robert Helmick at the Helmick Commons [5].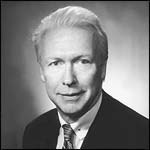 References
Westphal, David. (March 24, 1985). D.M.'s dashing Helmick runs Olympic unit. The Des Moines Register.
Young, Ann. (March 9, 2001). Donor unveils designs, plans for new Helmick Commons. 3News, 119.
Lacher, Lisa. (March 6, 2001). Drake Announces Plans for Helmick Commons.
Litsky, Frank. (April 16, 2003). Robert H. Helmick, 66, Former U.S.O.C. President. The New York TImes.
Abrahamson, Alan. (April 16, 2003). Robert Helmick, 66, Ex-President of U.S. Olympic Committee. Los Angeles Times.