Rush Process
Rushing
Submitted 12/15/10

OVERVIEW
To join a fraternity or sorority at Drake University, a student must first be registered as a participant in the recruitment process. Once registered, usually 1-2 weeks after school has started and everything has settled down a bit, "Rush Week" begins. During "Rush Week," any student who has registered can participate in the activities and events that are planned. These events are meant for the members and the potential members of the Greek Community to get to know one another and learn about the many different houses offered at Drake. After the formal recruitment, the houses normally give out "bids," which is an invitation to membership. Before offering full membership to a bid, they must go though a period called pledgeship. During this "pledgeship," the potential member must complete a few tasks and learn more about the house they are joining. Upon completion of pledgeship and other requirements, the house will then invite the pledges to be initiated and become members. The initiation process is different for every house but it usually includes rituals and ceremonies. The process for joining sororities and fraternities are very different, joining a fraternity if very informal and laid-back, while joining a sorority is a little bit more formal.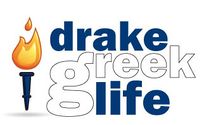 RUSH WEEK
During Rush Week, the potential members of the Greek Community learn all about each different chapter offered at Drake. Tours of each different house are offered and members of the house are there to get to know the potential pledges. Many students come into Rush Week having no idea what house they would like to join; Rush Week helps them to narrow it down and make the right choice. Kylie Franklin, a senior at Drake University, is a member of Alpha Phi, and she said, "Rush Week is the time to explore the many different houses offered at Drake." Mixers, barbecues, dinners, game nights, themed parties and just hanging out are a few of the events that go on during Rush Week. Drake tries to keep the rushing process as informal and stress-free as possible. While taking tours and listening to the goals of each house is important, getting to know the people of each house may be the most important of all. To get into a house, a potential member normally needs about a 50-75% approval rate from the entire house. If after Rush Week a student has no interest in joining the Greek Community, they can just notify one of the members and they will be taken off of the contact lists. Rachel Oberheide, a freshman at Drake University, said this about rush week, "it was a great experience and I got to meet a lot of new people!"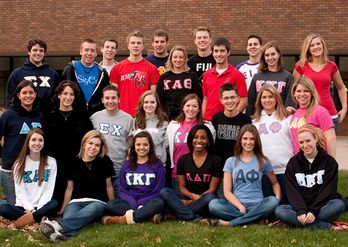 EARNING A BID & PLEDGESHIP
After Rush Week, each chapter will then pick out bids according to who they think will fit in and represent their house the best. It is possible to receive more than one bid, if this happens, the recipient must decide which bid he wants to pursue. After accepting a bid, the potential member is now called a pledge. A pledge is almost a member, but he or she must first go through an initiation process that will be specific to their house. Most houses have a few tasks or challenges for the pledges to complete. After their "pledgeship" is complete, the house will then invite the pledges to be initiated and become members of the Greek Community. Initiation is also different for every house, there is usually a secret ceremony or ritual that each pledge must go through.
References
Rush Week in Full Swing. (1985). The Times Delphic, 3.
Welcome To Fraternity & Sorority Life. (2010). Drake University- Greek Life.
Welcome to the Greek Life. (2008). Drake University Greek Recruitment '08.