Studio Arts
Studio Arts
It Will Always Be Farley's] - Facebook page created by Lee Ferber, former Drake Faculty member. The page is devoted to the Studio Arts Program and their building - formally Farley's Supermarket.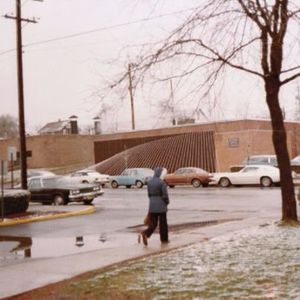 Excerpt from the Facebook page:
I started teaching at Drake in 1966. At that time the Art Department consisted of 13 faculty and we all taught in a large U shaped WWII barracks that was located between Meredith Hall and the Dining Hall. When the Art Department moved into the Harmon Fine Arts Center in 1972, Jewelry, Ceramics, Printmaking, and Sculpture were left behind in Iowa Hall. There was not enough money to build studios in the new building for these four studios. However, the University wanted to tear down Iowa Hall so it could build the Olmsted Center. The University purchased the Farley's Supermarket and remodeled the South exterior and the interior into studios and offices for the faculty. We moved in during August, 1973 and much of the first semester was spent building kilns, foundries, acid rooms, and the other specialized equipment needed to teach these four art areas. The original faculty included, Richard Black (printmaking), Condon Kuhl (jewelry and silversmithing), Lee Ferber (ceramics) and Doug Hendrickson (sculpture). During my time at Farley's (1973-1983) we were joined by Sue Noland ( jewelry) and Randy Long (jewelry). Everyone is welcome on this page, but I hope we hear from a lot of those students that were there during the first ten years.
Lee Ferber