Warren Gaer
Warren Gaer: A Drake Legend
Originally submitted by Addison J. Erb on December 8, 2011, Drake University
As Drake Stadium roar with excitement, the Bulldogs await in the tunnel. The Bulldogs, standing in the tunnel, could hardly contain their excitement to play in front of the Bulldog faithful once again. At the head of the pack stands a man, wearing a suit and thick glasses. He is their leader, their inspiration, their coach. This man's name is Warren Gaer. He is now known as one of the top coaches to coach at Drake University and is certainly the most known. He has a stern look upon his face and is preparing for victory once again for his beloved Drake.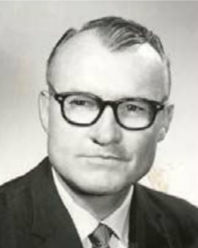 Early Life
Born on February 7th of 1912, in the Chicago suburb of Lake Park, Warren N. Gaer was one of four children. After finishing elementary and secondary school, Gaer went to Des Moines, Iowa, to attend Drake University. Warren attend Drake from 1931-1935. While at Drake as a student, Gaer participated in collegiate athletics such as football and track. Lettering three years in football, Gaer put up fantastic numbers as a fullback and was switched to guard at the start of his senior year. After making a name for himself within the conference, Gaer was awarded All-Missouri Valley Conference honors for football. At the end of 1935, Warren Gaer graduated with a Bachelor's degree.
Early Coaching Career
Gaer took to coaching football immediately after he graduated from Drake. His first coaching job was at Lenox High School in Lenox, Iowa. After a two year stint in Lenox, Warren moved to Missouri and coached at Missouri Valley High for five years. In 1942, Gaer found a new home at Whitefish Bay High School in Whitefish Bay, Wisconsin. Throughout his high school coaching career, Gaer "lost a total of 19 games". Warren Gaer finally broke into the collegiate ranks in 1944 when he accepted an offer from George Pepperdine College in Los Angeles, California. While at Pepperdine, Gaer achieved twenty-two victories and only six losses in three years of coaching. During the 1948 season, a season in which contained five of the six career losses, Warren Gaer "ousted five starters for disciplinary reasons". Warren Gaer held his players to high standards of principles and ethics.
Coaching At Drake
In 1948, the Drake University Bulldogs won the Salad Bowl against Arizona by a score of 14-13. This was Drake's first bowl win and the first bowl win for any Iowa college team. The Bulldogs boasted a 7-3 record that year under the direction of Al Kawal. The victory in the Salad Bowl led to Kawal's departure for Temple University at the conclusion of the season. Gaer, hearing of the vacancy at his alma mater, jumped at the opportunity to coach the team he once played for. An innovator of the "single wing" offense, Gaer brought a new style to Drake Stadium. Luckily for Gaer, he had a phenom of a halfback in the form of Johnny Bright, a college hall of fame halfback. Gaer and Bright collaborated for the best years of Drake Bulldog football. After records of 6-2-1, 6-2-1, and 7-2, with a victory in the Sun Bowl, Gaer coached for five final years. Warren Gaer ended his coaching career in 1959 where he had started.
During his time as a coach at Drake University, Warren Gaer was elected as the Executive Secretary of Drake National Alumni Association. An illustrious position, Gaer performed both the roles of head football coach and the Executive Secretary. Being a diverse man, Warren was not afraid of taking on too much. In fact, in September of 1956, he took on the role of Interim Director of Athletics. Gaer held that position for a year and eleven days until a more permanent Director of Athletics was found.
Years After Coaching
After his coaching days at Drake, Gaer took a position at Walnut Groves. Walnut Groves was located in Atlantic, Iowa. Warren and his wife, Martha, lived in Atlantic until Warren passed on January 13, 1997. Warren left behind his wife and two sons, Kent and Douglas. Warren N. Gaer is regarded as the second most successful Drake football alum, behind the famous Johnny Bright. Warren Gaer lives on through tales told by Mr. Paul Morrison and through his athletic scholarship. In addition to an athletic scholarship named after Gaer, a common room in the football offices of the Drake Fieldhouse is named in his honor.
References
Gaer named drake coach. (1949, March 17). St. Petersburg Times, p. 25.