Jim Duncan
Jim Duncan (1911-1989)
Originally submitted by Alyson Collins, Drake University, December 3, 2010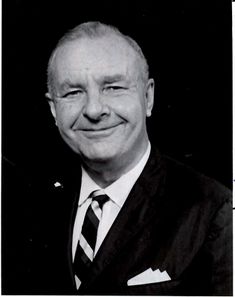 Known to many as the "voice of the Drake Relays," James Duncan played a prominent role in Drake University from the time he was a student until the day he passed away. As a coach, professor, writer and broadcaster, his claim to fame is his contributions to the Drake Relays as the announcer over the years. A great part of Drake's history involves Duncan and he took part in many Drake traditions.
Early Life and Education
Born in Clearfield, Iowa on May 27, 1911, Duncan was home-schooled by his mother until age ten. Once he reached the eighth grade level, she enrolled him into public school where his peers were ages thirteen and fourteen. He was very bright and enjoyed athletics but was unable to participate among his classmates because he was physically behind in growth due to his young age. Because of this, he took on running. Graduating high school at age fourteen, he took a year off from schooling before beginning his education at Drake; he was only sixteen when he stepped onto campus for the first day.[1] On Drake's campus, Duncan was very involved. He wrote for The Times Delphic, participated in theater, politics, speech, and track. He was also an elected member of Phi Beta Kappa, a prestigious American Honor Society. [2] Duncan excelled in track; the highlight of his track career at Drake was winning the 440-yard event at the Missouri Valley Conference Championship. He earned three varsity letters in track as well. Duncan graduated from Drake in 1931 with a degree in philosophy.[3] Duncan later went on to get his Master's Degree in Education from Drake in the following years. [1]
Careers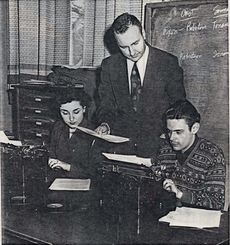 Upon graduation, Jim went on to become a principal and a coach at high school in Milburn, Iowa. Only two years later, Duncan became superintendent of schools. He was only twenty-one, but under Duncan, the school was judged to be Iowa's best academic high school three out of the nine years he was superintendent. He was very proud of this accomplishment. In 1937, Duncan came to Des Moines in hopes of taking Ronald Reagan's previous position as sports announcer at WHO-radio. Unfortunately for him, the position was already filled so Duncan was hired as a sports announcer for a different station.[1] His next career path was as a Lieutenant Commander in the Navy during World War II. During the 45 months he served, Duncan was officer in charge of harbor relations. After the war, he spent a year at a radio station at Fort Dodge. In 1947, Duncan returned to Iowa and was offered a teaching position in the radio-TV department at the http://www.ua.edu/ University of Alabama]. In 1950, he returned to Iowa once more and began his career at Drake.[2]
A beloved professor for many, Duncan had a major impact on the lives of his students. He was enthusiastic about his job and had a certain passion for helping his students succeed. He took interest in his students' futures outside of the classroom and did whatever was in his power to help them improve. Often times, he would take his students down to the local television stations so that they had the opportunity to use the new television equipment that they did not have access to in the classroom. He set up internships for his students, and many were extremely successful. Duncan tried to let a student know if he was not made for broadcasting as well. He once said, "It's a tough business, it's a talent game...There is a whole multitude of people with talent." Duncan tried to provide the chance for his students to portray and develop their talents. Duncan mentored students who went on to do great things such as broadcasting for national basketball teams, and working for prestigious news networks.[4] Duncan was also named one of Esquire Magazine's 33 "super professors" in 1966, an indication of his prowess for teaching.[2] Along with teaching, Duncan wrote countless articles for noteworthy magazines and newspapers such as Sports Illustrated, The Saturday Evening Post, Pageant, and Successful Farming.[5]
Voice of the Drake Relays
For many, the highlight of the world famous Drake Relays was listening to Jim Duncan's enthusiastic announcing of the events. It has been said that "voice ran in the family," as Jim's father and two uncles were livestock auctioneers. Duncan announced his first Drake Relays in 1951. In 1954, Duncan was named chairman of the Drake Relays. In 1963, he became the Relays' only announcer. As the announcer, Duncan refused to sit in the press box, and instead, he would sit on the west side of the infield. Rain or shine, Duncan would be there, showing his dedication to the runners and the fans.[6] He identifies more than 5,000 athletes, including a little bit about their histories and always, a lot of encouragement. Somehow, Duncan was able to recall all of the necessary facts and keep his voice after the event. He once said, "There's one law in the game, and that's if you don't get an identifying factor on one person, he or she will always lead the race."[3] For that reason, Duncan was always prepared. In 1981, Duncan reached the mandatory retirement age, ending his career as a professor at Drake; however, he continued to announce for the Drake Relays in the years to follow. Towards the end of his Relays career, Relay officials named the women's university-college division 4x400 relay after Duncan.[2]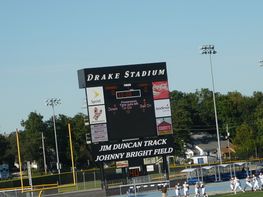 Duncan's Legacy
After dying from a massive heart attack on April 7, 1989 at the age of 77, many mourned Duncan's death. As a beloved professor, announcer, and mentor, his students, his colleagues, and Drake Relay participants would remember Duncan forever. After the major renovations of Drake Stadium in 2005, the track surrounding the football field was named the Jim Duncan Track to honor him and his contributions to the Drake community over the years. Several Jim Duncan Invitationals have also been named for this famous voice. Jim Duncan will always be remembered as a great addition to Drake University and for his voice of encouragement down on the track.[2]
Sources
[1] Versatile Professor Duncan relates accomplishments, opinions and life. (1962, September 18). Drake Times-Delphic.
[2] Blount, R. (1989, April 8). Relays' voice Jim Duncan, is dead at 77. The Des Moines Register.
[3] Shea, L. (1983, April 28). Duncan adds spice as veteran relays voice. Drake Times-Delphic.
[4] Tullio, R.J. Cover story. 9.
[5] Jim Duncan: an all-around relays man. (1966, April 19). Drake Times-Delphic.
[6] Thompson, G.L. (1985, Spring). Voice of the Relays. Drake Magazine, 27-29.