Mary Carpenter
Mary Carpenter
Originally Submitted By: Larissa Wurm, Drake University, Dec 1, 2010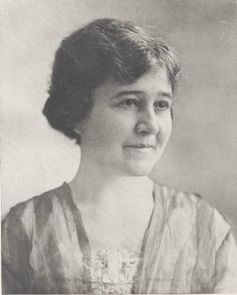 About Her
Mary Carpenter is known for being connected with the Drake community for 60 years. Students remember seeing her swinging at her home as they made their way to Oskaloosa College, the predecessor of Drake University, and the college where her father was president. She came to Drake in 1881, the year it opened. Four years later, she graduated with top honors with a bachelor's degree in philosophy. Mary was also the niece of General F.M. Drake, whom Drake University was named after, the daughter of the first chancellor George Thomas Carpenter, the wife of the second chancellor, the librarian at Drake, and later became the Dean of Women [1].

She was also well known for being friendly and for her loyalty to her friends and Drake. President Morehouse said of her "She was one of the few persons who never criticized anyone and who never had a discouraging word" [2]. Many students would go to her for help or guidance. One student said, in a now classic quote, that "it was a part of every boy's education at Drake to fall in love with Mary Carpenter"[1].

She was the librarian from 1897 to 1905, when she became the dean of women until 1908. Her term ended (by resigning) when she married William Bayard Craig, the second chancellor of Drake University. She first moved to Denver, moved on to New York, then finally to California. After William's death in 1918, Mary returned to Drake and served again as the dean of women until 1931, when she left to marry again . Her second marriage was to Dr. John Addison Shreck, a physician in Des Moines . She died March 27th, 1939 from an elongated illness[3].
After Her Death
Of Mary Carpenter's death, Dr. Morehouse said "Drake University ten-thousand strong grieves at the loss it has sustained in the death of it's lifelong friend, Mary Carpenter Shreck. She has been with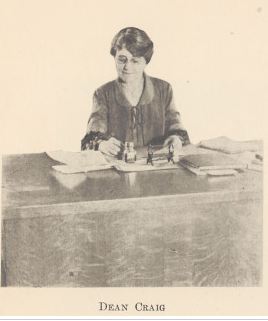 us since the founding of the university. Her life as exemplified through her work, strength of character, and ineluctable personality has left its imprint upon students, alumni and faculties. Like a great benediction she has exalted the life of her day and generation." Dean Carrie Taylor Cubbage talks about Mary's character, saying "A true gentlewoman. She has always been an inspiration to me" [2].
In memory of Mary's love for Drake, her second husband started a scholarship funds for the students, called the Worthy Student Assistance fund. He gave $2,000 to the university to start the fund and Drake would give 6% interest. Students who receive the scholarship are chosen by a committee, then consisting of the dean of men, dean of women, the president of the university, and two members of the Margaret Fuller club. People who donated to the fund had their names inscribed on an official record of the fund. The first person to donate to the fund was Dean Cubbage, donating $100 [4][5].
During January 1955, one of the residence halls that would eventually be used as a women's residence hall, was named after Mary Carpenter. The director of public relations at the time, Robert L. Stuhr, thought the name was appropriate for the dorm because of all the time Mary had spent at the university. Replying to why the originally men's dorm was being named for a woman, Stuhr replied "One must think into the future" [6].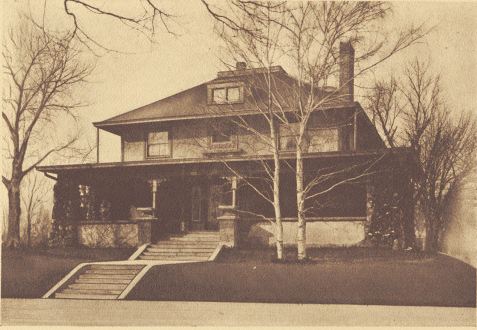 Craig House
A house, later to be knows as Craig House, was built in 1901 by Mary Carpenter's first husband, William Bayard Craig. It was the home of Mary Carpenter, and also a meeting place for many campus organizations. It did not actually become known as Craig House until she came back for her second term. When she left after her second term, the home was turned into a girls' dorm[7]. In 1935 it became the home of Dr. Morehouse and his wife [3].
References
[1] Welpton, B.J. (1930). The Drake Alumnus. Dean Mary Carpenter Craig. 8-9.
[2] Former Dean of Women, Daughter of Drake's First Chancellor, Dies. (1939 March 31). Times Delphic (Drake University, Des Moines, Iowa), p.2.
[3] Mary Carpenter Shreck Dies at Home in California. (1939 March 27). Times Delphic (Drake University, Des Moines, Iowa).
[4] Donates $2,000 as 'Assistance' Memorial Fund. (1939 May 26). Times Delphic (Drake University, Des Moines, Iowa), p.1.
[5] Cubbage, C. "Worthy Student Assistance Fund" In Memory of Mary Carpenter Shreck. (1939 March 27).
[6] Bonjean, C. (1955 Jan 18). Carpenter Dorm Is Named For Outstanding Drake Alumna. Times Delphic (Drake University, Des Moines, Iowa), p.2.
[7] Craig House Becomes Freshman Dormitory for Women Students. (1930 Sept 25). Times Delphic (Drake University, Des Moines, Iowa), p.1.