Roger Knapp
Roger Knapp (September 7, 1959-March 30, 2008)'
Originally Submitted by Zeah Peterson, Drake University, on November 29, 2011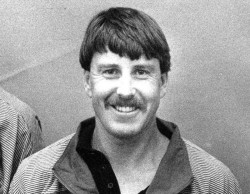 Early Years
Roger Knapp was born on September 7,1959 in Des Moines, Iowa. He was born to William and Irene Knapp[1]. Roger grew up with his family here in Des Moines until his junior year of high school. Growing up, he was exposed to tennis at a very early age. His parents built a tennis court in their backyard for his sister, but Roger was the one that got the most out of it[2]. He most of his days out there enhancing his skills, which would later pay off. Knapp attended Hoover High School in Des Moines, Iowa for his first two years of high school[1]. He participated in tennis while he was there. He not only participated, but he succeeded greatly on the tennis court. Knapp was singles state champion both his freshmen and sophomore years proving to be one of the best tennis players in the state of Iowa[4]. His success didn't end there. He left Hoover High School to attend La Jolla High School in La Jolla, California. There he was ranked 14th nationally among all boys his age[3].
College
After graduating from La Jolla High School, Knapp attended University of Southern California on a tennis scholarship. At this point he was one of the best tennis players in the nation and his success in college showed just that. While at USC he was named All-American in doubles in 1979 and 1980, and also won USTA Amateur Indoor title[3] .Knapp also attended Faith Baptist College in Ankeny, Iowa for one and a half years before pursuing his coaching positions[1].
Career
Knapp was not ready to give up playing tennis yet. After graduating from USC, Knapp played professional tennis for four years. He was ranked among the top 150 players in the world in both singles and doubles[4]. After completing his career as a professional athlete, Knapp became an assistant coach at University of Southern California, his alma mater. Shortly after taking that job, he started a family and was considering moving to an area fit more for a family[4]. That was around the time that Drake University offered him a job as head coach. He took the job in 1989. It didn't take long for Knapp to turn the program around showing major success. He carried a 72-46 record while here at Drake, and led them to the first ever NCAA tournament appearance. He also led them to back to back Missouri Valley Conference titles in 1992 and 1993[3]. Knapp continued to coach up until 1994.
Retirement
Roger Knapp retired from coaching in 1994 and moved down to Florida. He wanted to spend more time with his family, including his wife, Kem Lindsey, and two daughters Sable and Montana. During his retirement years Knapp spent much of his time on the golf course. He discovered his love for the game of golf. Knapp also breeded Great Danes and sold them at his place in Sarasota, Florida. A year before Knapp passed away, he had surgery done on an aortic aneurysm. The aneurysm continued to cause complications, and led to his death on March 30, 2008[2]. In honor of Roger Knapp, Drake University has named the Roger Knapp Tennis Center after him.
References
[1] Roger Bill Knapp. (April 5, 2008). Des Moines Register. pp. 7B
[2] O'Neil, T. (April 3, 2008). Aneurism claims Knapp. Times Delphic, 126. pp. 1, 7.
[3] Zaloudek, M. (April 2, 2008). Tennis player ranked among best in world. Sarasota Herald-Tribune. p. 88.
[4]Grett, W. (April 4, 1989). Drake names Knapp men's tennis coach. Des Moines Register.