Student Activities Board
Student Activities Board (SAB)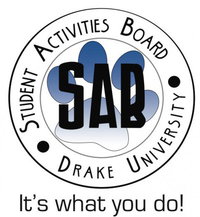 Originally submitted by: Cara Collins, Drake University, Dec 2, 2010
Origin of the organization
The Student Activities Board is one of the oldest organizations on campus. It was founded to help students become more involved and become comfortable with Drake University. It helped answer many students' requests to stay active and not become bored. Although SAB may have great ideas to kick-start any boring day, there has also been controversy in the past dealing with faculty taking part and becoming involved with the organization as well. This became public in The Times Delphic in the August of 1987 paper. It caused an uproar that led many students to believe they were just being monitored and teachers thinking they were there to baby-sit them. [1]
Mission Statment
The Student Activities Board Mission Statement states that its mission is to serve the student body by providing quality entertainment and education programs. It will also strive to encourage involvement and interaction among students and student organizations. [1]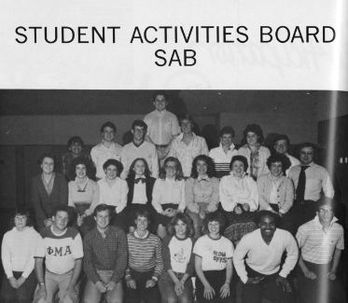 Events
The Student Activities Board is in charge of putting on special events which can include cultural celebrations, social functions, guest speakers, and concerts, especially for days where nothing has been scheduled. They try to maintain a wide variety of activities on campus tokeep students from all backgrounds, hobbies, and ages involved with Drake University and other students. SAB has anchored many events that will stay a tradition throughout the history of Drake itself. Many of these other events include:
bands
carnivals
comedians
hypnotists
These are just a few of the events hosted by SAB, many others such as open-air theater and fireworks are also provided to students willing to attend the events. [2]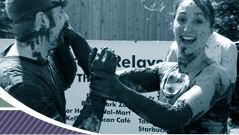 SAB Board
The Student Activities Board is made up of multiple committee's to help benefit the school even further. It is broken down into many categories three of which being, relays committee, student union committee, and elections and calendar committee. Although they are all a part of the SAB board, they each have their own individual jobs to provide efficiency and a better Drake experience. [2]
Relays Committee
This committee was formed to help prepare for the Drake Relays, which is an annual outdoor track and field event which is held at Drake University's stadium. The Relay's Committee is in charge of planning and carrying out activities scheduled for that week. Some of these events include street painting, a barbecue, and the Relay's Parade. They are also broken down into three separate sub-committees to help with efficiency. These include activities, parade, and public relations. And, although the Relays are enjoyed by the students, it is also a time for the alum and the surrounding community to enjoy Drake's campus. Even though the track meet is held towards the end of April, many of the events start taking place about three weeks prior. [2]
Student Union Committee
The Student Union Committee is responsible for hiring bands and entertainers as well as coordinating videos. They also help to create publicity for performers who come and entertain everyone on campus. [2]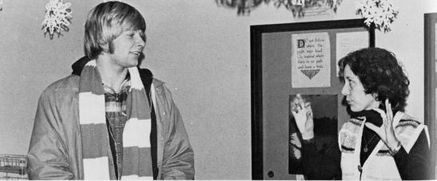 Elections and Calendar Committee
This SAB committee helps serve the school by coordinating all student body elections and providing much needed information on a variety of activities selected for on campus entertainment to the students. This group of students along with RHA (Residence Hall Association) are two of the major networking systems on campus and provide this information in a variety of ways:
monthly calendar
the character generator
activities hotline
the national ride board [2]
SAB And YOU!
Even if one doesn't realize the impact the Student Activities Board can have, after being informed of events they have attended put on by SAB, one cannot help but be impressed. SAB has built such a reputation and has students become so involved that it makes everyone feel comfortable. Always remember to just by yourself and have fun!
References=
1) Drake university. (n.d.). Retrieved from http:www.drake.edu/catalog/ugrad/genifo/activities.php|www.drake.edu/catalog/ugrad/genifo/activities.php
2) The quax 1979.